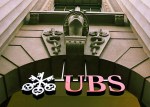 Have you ever become frustrated when your Internet purchase failed to process, opened a new browser window and resubmitted the order, then found out later that you'd paid for two levitating hover scooters instead of one? So that same thing happened to UBS last quarter, only the Zurich-based bank was buying Facebook shares for clients during the social media company's May IPO, and the firm's tab eventually ran to something like $356 million.
All of which has been more or less a known thing since CNBC broke news of UBS' losses—as well as the bank's intention to sue Nasdaq over the technical glitches during the IPO—in June. But we can now read about it in the bank's own words, as UBS described the losses in a letter to shareholders:
As a market maker in one of the largest IPOs in U.S. history, we received significant orders from clients, including clients of our wealth management businesses. Due to multiple operational failures by Nasdaq, UBS's pre-market orders were not confirmed for several hours after the stock had commenced trading. As a result of system protocols that we had designed to ensure our clients' orders were filled consistent with regulatory guidelines and our own standards, orders were entered multiple times before the necessary confirmations from Nasdaq were received and our systems were able to process them. Nasdaq ultimately filled all of these orders, exposing UBS to far more shares than our clients had ordered.
Well, we might kid that our grandmother probably would have stopped sending orders after the third or fourth hover scooter, we understand there are complicated protocols involved, the firm was trying to satisfy client orders, etc., and leave the harsh criticism to Matt Levine, who echoed Felix Salmon before him in wondering whether the whole deal didn't auger for UBS giving up on the idea of investment banking altogether.
Nasdaq, meanwhile, sweetened its proposal to repay parties that registered losses do to technical glitches, raising its compensation pool to $62 million—which may be good enough for Knight Capital, one of the other Facebook market makers to suffer in the botched offering, but isn't going to cut it for UBS.
"We will take appropriate legal action against Nasdaq to address its gross mishandling of the offering and its substantial failures to perform its duties," the bank's shareholder letter read. "Although as in all such matters there can be no assurance as to the amount of any recovery we may obtain, we intend to pursue compensation for the full extent of our losses."
(Photo: KEYSTONE/Walter Bieri)