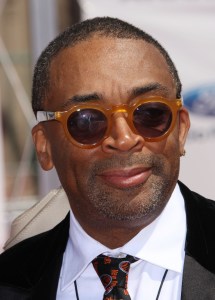 Director Spike Lee gave a lengthy interview to New York magazine to promote his upcoming film Red Hook Summer and he shared his thoughts on Mayor Michael Bloomberg's controversial soda ban and the presidential election. Initially, Mr. Lee's only comment on the mayor was that he's a "fellow New York Knicks season-ticket holder," but after some prodding from New York contributing editor Will Leitch, Mr. Lee went on to say he thinks Mr. Bloomberg's legacy "took a blow" with his pursuit of a third term. Though Mr. Lee didn't seem too supportive of Mr. Bloomberg maneuvering around the old two term limit, he gave the soda ban a much more positive review.
"I'm in favor of it. Look, when I was growing up in Brooklyn, we had gym, and you had to run. You had some physical activity. Children today in public schools across the country are not being taught art, are not being taught music, and they have no physical ed. Obesity is a major, major problem in this country," Mr. Lee said. "Americans—we're just obese. It's crazy. Ask ­African-Americans. We are way over ­index on obesity, which means we are over index on diabetes, heart disease, and it goes down the line."
Mr. Lee also gave his thoughts on the presidential election. The director, who has hosted benefits for President Barack Obama, said he believes the elections will be "very, very, very close," but he has "faith" the president will be re-elected. Mr. Lee described Mitt Romney's Mormon religion as the "big question" of the campaign.
"I think there will be a block of people saying, 'I cannot vote for a Mormon,'" Mr. Lee said. "They got a tough decision: Obama or a Mormon."
Mr. Lee also shared the story of a time he met Mr. Romney.
"I met him in an airport, Reagan National Airport, and we said hello. It was, like, two, three years ago," said Mr. Lee. "I was just in D.C. and he was there and he said, 'What's up, Spike?' and I said, 'What's happening, Mitt?' We were in line getting something to eat. So I said what's up and shook hands."