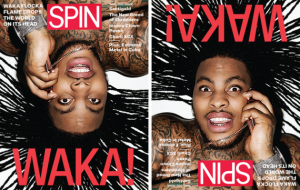 The newly revitalized Spin magazine is being un-revitalized, Gawker's big new hire, Blodget's big new profile, Borowitz's old trolling tactic attracts new "fans," and more media stories in today's Power Lunch.
Spin Cycle: After recently being aquired by BuzzMedia—owner of sites like Stereogum, Brooklyn Vegan, the esteemed KimKardashian.com, and the zombie version of former Gawker music blog Idolator—the new owners of Spin magazine (which has looked especially great in the last few months) decided it would be in the magazine's best interest to lay off the Spin Editor-in-Chief Steve Kandell, as well as associate editor Melissa Giannini, and news editor Devon Maloney. This raises the question as to whether or not Spin's recent investigation into America's bath salts epidemic was shortsighted, in that it didn't extend to the magazine's new ownership. [Billboard]
Gawker, Three Hours Later: Gawker.com recently scooped up former Good senior editor Cord Jefferson, who has filed some of the site's best pieces as of late, like the one on Black Atheism and a before-the-backlash piece about the unsavory anti-gay practices of Chick-Fil-A. Jefferson—who's been busy freelancing for places like The Nation as well—will be the site's "West Coast editor" and a Gizmodo contributor. He broke the news himself on Twitter on Friday. [@CordJefferson]
The Nu-Baby-Cuddling Nick Denton Cares About Babies: Making good on Gawker Media publisher Nick Denton's promise to care about babies and not eat them force them to write eight posts a day, the company will now start covering "100% of medical insurance, including for spouses & families" notes editorial ringleader somethingorother Scott Kidder. They're hiring, but if you're reading this, you probably have little interest in any of the positions they're hiring for. [@skidder]
Bludgeoned with Blodget: Henry Blodget got profiled by the Wall Street Journal's Keach Hagey. This is two years after Bloomberg Businessweek profiled him (and a few months after the Times profile of B.I. star Joe Wiesenthal). The title of it? "Blodget's Second Act," which is not a reference to his forthcoming Catskills residency with Eliot Spitzer. How many times does this man get a second act? One could suggest that Business Insider is closer to a second act itself, which would make this Blodget's third? Whatever, it's their accounting, not mine. But, worth noting: "The site has yet to turn much of a profit." For what it's worth, Hagey's piece is a quick, concise, good read. [WSJ]
Romenesko Empire: Outside digital director Nicholas Jackson notes that "Romenesko has made the big-time," referring to the giant, ugly skin covering his site right now. That said, cash money is cash money. May the Dread Pirate Ship Romenesko sell those CPMs to his heart's content. [@NBJ914 | Romenesko]
Like Old L.A. Times: A memo/press release recently sent out to the newsroom/media reporter pool from the L.A. Times beams with excitement at the hiring of three new reporters. Three! New! Reporters! They're trying to beef up their entertainment news presence. Romenesko has the full memo up. [Romenesko]'
Oh, Andy: Former Huffington Post contributor, 'The Fresh Prince of Bel-Air' co-creator, National Book Awards host for two years running, and now, New Yorker humor blogger Andy Borowitz is upsetting people who don't get his humor, per the usual. Troll the good fight, sir. [@randlechris]
n+fun: Village Voice music editor Maura Johnston notes a line from the new Alix Kates Shulman book, Menage: "This is the Times, not n+1." This is both as oddly irritating as it is perfectly resonant. [@maura]
This Week, In TinaWeek: Newsweek's cover this week trolls approximately half of America in a move they likely want construed as at least moderately partisan. Having already painted Obama as the Gayest President Ever, they're looking to paint Mitt Romney as the Wimpiest Presidential Candidate Ever. Mother Jones' Adam Serwer noted it as "100 percent pure, unrefined, uncut, #dumbgeist." [@AdamSerwer]
TinaWeek Goes Meta: As if that weren't enough, there's also a feature by former French Vogue Editor-in-Chief Juliet Joan Buck about how she was "duped" by the first lady of Syria when profiling her for Vogue. The profile—which ended up costing her the job at Vogue she's held since she was 23—was written before the world learned about the extent to which Syria's dictatorship is evil, and was removed from Vogue's website three months after it was published. The Newsweek piece ends with the words "Juliet Joan Buck is writing a memoir"—which, you ain't kidding—and a post-script with quotes from Anna Wintour and the PR firm that baited Buck. Lesson: This is what happens when you take evil flacks at their word. [Newsweek]
Know anything more about these items? Know anything more about anything? Please send your tips, Animals-Walking-Into-a-Bar Jokes, legal threats, Nikki Finke fan mail, and Bob Dylan quotes right here.
Happy Monday.
fkamer@observer.com | @weareyourfek