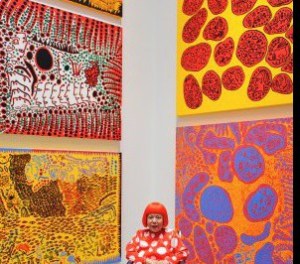 It should be impossible to make a dull exhibition of work by Japanese artist Yayoi Kusama, a feisty 83-year-old whose scale-defying work—"infinity net" paintings, polka-dot installations, happenings, as well as dabblings in media, fashion and commerce—might play equally well in a closet and an arena. Yet the Whitney Museum has managed to put on a tepid retrospective: a dutiful and limited presentation of an artist who is larger than life.
Ms. Kusama was born in 1929 in Matsumoto; her Japan was the one of war brides, American GIs and food shortages. The fragile paintings like Heart (1951) and Fern Kingdom (1953) that she made in the early 1950s using oil, enamel and housepaint as well as sand and—sometimes in place of canvas—seed sacks, on display in two rooms at the Whitney, are sweetly hallucinatory and surrealistic. Her conservative family disapproved of her painting habit, and while the Whitney's wall text informs viewers that rationing in postwar Japan necessitated the use of such eccentric materials, Ms. Kusama herself recalls that her teenage rebellion took the form of pilfering goods from her parents' plant nursery business to use as art supplies. The works often feature flower buds, and her hallmark dots start to appear in the painting God of the Wind (1955).
When she decided to move to the U.S., Ms. Kusama went to the American embassy, looked up Georgia O'Keeffe's address in Who's Who and wrote one of the determined, slightly deranged missives that would become her calling cards. O'Keeffe's 1955 reply is on display: "It seems to me very odd that you are so ambitious to show your paintings here. But I wish the best for you."
She finally made it to New York in 1958, when she was 29, and took up residence in a Zen center. The paintings she made shortly after arriving are still her best: rhythmic, cellular monochromes with surfaces so thick that the oil paint looks like baked porcelain. Her larger artistic project begins in earnest here: patterns cut up and spread out over flat surfaces and, eventually, sculptural forms. Her austere and labor-intensive work made an impression in New York, where the art world was still in thrall to Action Painting. Before long, she'd rented a floor in a Downtown loft where she used an old door for a bed and couldn't afford milk for coffee but had artist neighbors in the building: Claes Oldenburg, John Chamberlain and Larry Rivers. A tiny self-portrait from 1959 shows her looking fresh-faced and headstrong.
She was different from her artist peers, though, in that she'd experienced visual and aural hallucinations since around age 12, visions of nets and dots climbing onto her skin that regularly landed her in Bellevue. But her visions' trippy effects were not unlike the psychedelic experiences the hippies embraced in their quest for counterculture utopia, and she became famous with her next series: happenings, "polka-dot dance parties," "body festivals" and "impromptu nude-ins" like her Endless Love Show in 1966, which, according to the Whitney's wall text, featured "pot-smoking, go-go dancing and general carousing until dawn." Her film Self-Obliteration (1968), a 24-minute psychedelic orgy of lighting effects and shamanistic polka-dotting, shows the tone of rapture that struck a cultural vein. If she rebelled against hierarchic and conservative postwar Japanese society, her promise of "self-obliteration" resonated with the mood of America during Vietnam. Her staged sex parties,in which Ms. Kusama used comely hippie girls and gay call boys as canvases for her endless polka dots, looked political enough for the tabloid press: antiwar, pro-gay, feminist and pro-drug, breaking laws in the name of art.The work found an international audience and the performances traveled to Belgium and Germany. (There's a "did she or didn't she?" feel to Ms. Kusama's participation in the most outré elements of her own work; she claims that she had no interest in sex or drugs: "I absolutely never slept with one of them," she has said of the scores of young nude dancers who hung around her, but plenty of people went to her performances to get laid.)
The best-curated room at the Whitney is the one occupied by her accumulation sculptures, ordinary objects covered with sculptural forms: there are macaroni suitcases, as well as couches, rowboats, high-heeled shoes and dresses sprouting forests of phallic shapes made of fabric. These are humorous and have a kinky glamour. It would have been nice to see her boat wallpaper, said to have inspired Warhol's famous cow wallpaper, and the pornographic posters she sold mail-order, with dodgy entrepreneurial flair, once her happenings started to catch on.Articles from the late 1960s show "Miss Kusama" turning up at art events decked out in phalli-covered dresses and handbags.
She had a gift for navigating the weird sexual politics of an era when free love made headlines and yet many women, even in artistic circles, found themselves stuck in their roles as wives and mothers. She lived alone in her loft, a savvy self-promoter who staged prescient and fierce self-portraits in catsuits that still look edgy today. Carolee Schneemann and Marina Abramovic would later toe this flash-a-tit-feminist party line. But the show doesn't quite capture the flavor of this gaudy fun; the video and fliers on display seem timid in relation to her truly untrammeled self-obsession.Ms.Kusama leveraged her outsider status—a pretty Japanese woman in New York—into drinks with Frank Stella and Salvadore Dali, and a decade-long love affair with the reclusive Joseph Cornell. Works by Cornell from her personal collection are on display, including one that reads: "Fly back to me spring flower and I shall tie a string to you like this butterfly."
As the show's high-decibel commercial tie-in with Louis Vuitton makes clear (Marc Jacobs has inducted Ms. Kusama into the blue-chip handbag-artist brotherhood of Takashi Murakami and Richard Prince), she has new resonance these days as a proto-Murakami. (The irony inherent in Louis Vuitton promoting someone who once had as her manifesto "Nudism is the one thing that doesn't cost anything. Clothes cost money. Kusama will cover your body with polka dots" is, however, well worth pointing out.) The grand dame of Japanese postwar Pop wore dresses with circles cut out of the tits and ass, and a rack of such "orgy dresses" would have been interesting objects to see at the Whitney. As if in reaction to such institutional reserve, Kusama-mania has spilled out onto the streets of New York with an installation at the Christopher Street pier of red and white polka-dotted biomorphic sculptures, and a display inside and on the exterior of Fifth Avenue's Louis Vuitton store, which has already spread her dots onto the homepages of countless tween fashion bloggers.
Since 1977, Ms. Kusama has lived voluntarily in a psychiatric institution in Japan. Her 1980s pieces, like the large-scale Cornell Box-like construction Leftover Snow in a Dream (1982), or some lovely, biomorphic plant drawings from the late 1970s, are more introverted, but also more ambitious than her happenings and social sculptures of the '60s and early '70s. Her continuing eagerness to be photographed in front of her work makes her, perhaps, the world's most photographed recluse.
One problem with the Whitney show is that it fails to place Ms. Kusama's work in relation to either her artistic peers from the past (Eva Hesse, Lee Bontecou and Louise Bourgeois come to mind) or to today's artists like Kembra Phaler and Ryan McGinley, whose brand of naked downtown self-promotion and shamanistic rocked-out art-making seem resonant with Ms. Kusama's practice. Instead, the Whitney gives us, in the show's final gallery, Ms. Kusama's pretty terrible Keith Haring-like recent paintings, low-grade hothouse acrylics hung floor-to-ceiling.
The larger problem, though, is this: in any exhibition, a curator's sensibility should be evident; this show, which comes to the Whitney after stints at the Tate and Pompidou, feels instead as though it were created by committee. The installation has no instinct for what might be interesting or dramatic, no sense of which projects might look best large or small, and no conviction about what pieces are important and what work just fills a room. The objects themselves do a lot of heavy lifting here, as does the artist's oversized personality. (She may not be the best artist, but she has panache.) Even the Whitney's focus on American art is lost here, with most of the revelatory work coming from Ms. Kusama's lesser-known years in Japan.
There is one pointedly local angle to the show, despite the spotty curation: New York was, and remains, a great place in which to reinvent yourself, as Ms. Kusama did. She was a hard worker, a bit of a hustler and a savvy survivor. Note the 1964 photograph of Ms. Kusama, age 35, in Brooklyn, looking fabulous in a long faux-fur coat, full of affectation and ego, beautiful and confident.
The best moment in the show is her 2002 room-size, romantic, low-fi installation piece Fireflies on the Water. Only one person at a time can enter: alone, with 150 Christmas tree lights mirrored so that they look like a cosmos, you experience an interior as infinity. The Infinity Net paintings and polka dots have this same effect: a little, repeating motif on a simple field can, with a trick of perspective, look like an entire world. This fragility, and willingness to improvise in her seemingly boundless project, is the best of Yayoi Kusama.
editorial@observer.com