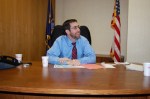 State Senator Daniel Squadron has $400,000 in the bank as the race for public advocate heats up.
According to a source close to Mr. Squadron, his campaign believes that due to the city's generous matching program, he in essence has close to $1 million to spend on his first citywide run.
Mr. Squadron also will report raising over $308,000 in this period alone.
That puts him on a fundraising pace with Reshma Saujani, a former deputy in the office of the current comptroller, Bill de Blasio. According to an email sent toThe Politicker, Ms. Saujani has raised over $275,000. Her haul is all the more impressive considering she only begun fundraising in the last three months.  Ms. Saujani also said that she has approximately $264,000 in the bank.
Another candidate in the race, Letitia James, has picked up her fundraising pace as well. She raised $216,000 this fundraising period from over 800 donors; by comparison, Ms. Saujani said her total came from over 500 donors. Ms. James has less than $150,000 on hand, however.
Mr. de Blasio is widely expected to run for mayor next year.