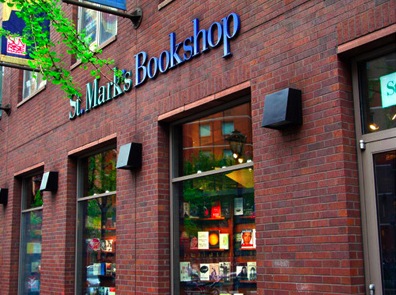 It is beloved by cultural icons, borough presidents and bookworms far and wide, but the St. Mark's bookshop needs more than love to survive its latest trials and tribulations. It needs money.
The bookstore requires an infusion to make it through the summer slump, when readers turn to cheap paperbacks acquired at airports and magazines for their beach reading.
"We're in the midst of some serious summer doldrums and could use a little lift," co-owner Terry McCoy told Jeremiah's Vanishing New York.
To help, Vanishing New Yorkis calling for a cash mob this Saturday, July 21. The first 20 people to spend $10 and say "Jeremiah sent me" will receive a $5 gift certificate toward their next visit to St. Mark's Bookshop.
The cash mob starts at 3 p.m. at St. Mark's (31 Third Avenue). And, after the mob there's a  meet-up at Bar 82 at 136 Second Avenue.
The shop is trying to find a new, cheaper, smaller home after winning a one-year rent reprieve from landlord Cooper Union. It has also applied for a $250,000 small business grant from Chase Bank in partnership with Living Social and the U.S. Chamber of Commerce to finance the relocation.
Besides crowdfunding, there aren't all that many other options for St. Mark's, which has attempted virtually all other means of clinging to their East Village space. Now they're leaving (the space and most likely the East Village), but they need to remain solvent until they go.
kvelsey@observer.com