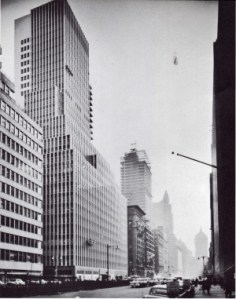 In what sounds like a cross between a party and a design crit from architecture college, L&L Holdings held four marathon sessions last week to explore proposals for replacing the tower it owns at 425 Park Avenue with a new modern office building.
Last year, L&L revealed it planned to tear down the 1950s office block and replace it with something new. A complication in the zoning meant L&L had to keep the bottom 25 percent of the building intact, otherwise the developer would be forced to replace the current building with something smaller. It tapped 11 of the world's top architects to come up with their own plans, then chose four to present preliminary designs, which took place last week.
These starchitects—Rem Koolhaas, Zaha Hadid, Norman Foster and Richard Rogers (all foreigners, including three Brits!)—each gave two hour presentations at L&L's West 57th Street offices, according to a source, one in the morning, one in the evening, on Tuesday and Wednesday of last week. This was followed by either lunch or dinner at a different nearby restaurant.

The architects themselves were on-hand to make the presentation to L&L principals David Levinson and Robert Lapidus and their deputies. There were joined by a design advisory committee led by Columbia real estate dean Vishaan Chakrabarti, CBRE CEO and REBNY chair Mary Ann Tighe, Municipal Art Society president Vin Cipolla and former Landmarks Commission chair and current Hunter College president Jennifer Raab.
According to our source, the designers each presented two different proposals, one in which the 25 percent provision was considered and another where the building could be torn down and replaced at the current floor-area-ratio with no restrictions, at an FAR of 18. There was no discussion of the recently announced Midtown East rezoning, which could allow buildings of exceptional quality to rise to a 24 FAR—50 percent bigger than the current zoning, a bonus that seems to tantalizing to pass up—because the plan had not yet been revealed.
The architects could always come up with such schemes at a later date, as the project is not expected to commence until 2015, when the tenants clear out all at once. Normally, this would present a major challenge for a landlord to re-tenant the building, but L&L has decided to use it to its advantage in replacing the aging structure instead.
Details of the different designs were not available, but they were said to be impressive. "They put a tremendous amount of time and thought into their presentations," the source said. "They were extremely detailed and highly creative in their solutions to the site's challenges."
The details were confirmed by an L&L representative who declined to comment further. The designs are due to be unveiled sometime in the coming weeks, with a finalist to be announced by the end of the year.