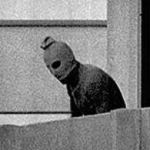 Scott Stringer joined members of the New York Congressional delegation today in launching a petition which calls on the London Olympics to  hold a moment of silence in honor of the Israeli athletes slain during the Munich games in 1972.
Forty years ago terrorists shocked the world by murdering eleven Israeli athletes at the Munich Olympics. The International Olympics Committee (IOC) has a moral responsibility to keep remembrance alive as we approach this tragic anniversary, but has refused to take action.

Join Manhattan Borough President Scott M. Stringer, Congressmember Jerrold Nadler, Congressmember Nita Lowey, Congressmember Eliot Engel, and Congressmember Steve Israel in calling on the IOC to honor these innocent victims with a moment of silence during the opening ceremonies of this summer's Olympic Games. Your signature will be delivered to the IOC as part of this growing effort to finally honor those who lost their lives 40 years ago.
Eliot Engel and Nita Lowey introduced a resolution in Congress calling on the IOC to honor the murdered athletes earlier this year.
The eleven Israeli athletes were kidnapped in 1972 by Palestinian militants who hoped to extract the release of Palestinians held in Israeli jails.  The event has been memorialized in several films.
You can view the petition here.