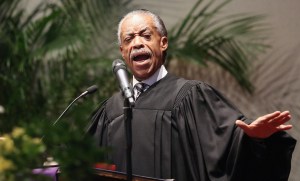 Harlem restaurateur Sylvia Woods was a legendary chef, but she was also a key figure in the Uptown political scene. At her funeral service at Grace Baptist Church in Mount Vernon today, many of the high-powered regulars from Woods' eponymous restaurant showed up to share their remembrances and pay tribute to Woods as a pioneering African-American businesswoman, an ally in the civil rights struggle and, of course, a superb chef.
"Every protest, every movement, every plan, every law started with a breakfast, or lunch or a dinner at Sylvia's," former Governor David Paterson explained.
Today's service was one of three memorials for Woods. On Saturday, her family is holding a "homegoing celebration" in her native Hemingway, South Carolina. Yesterday evening, Bill Clinton and Mayor Michael Bloomberg were among the luminaries who gathered for a "salute" to Woods at Abyssinian Baptist Church in Harlem. Woods' granddaughter, Tren'ness Woods-Black, spoke to reporters prior to today's service and said the turnout at yesterday's event showed her grandmother was beloved by average citizens as well as the boldface clientele.
"From presidents on down to 70-year-old people who have been eating at the restaurant every day, that's what showed up yesterday and that was a true representation of what Sylvia's is all about," Ms. Woods-Black said.
Before the service got started, Woods lay in state in an open casket as the mourners packed into their pews. As the ceremony began, Grace Baptist's associate pastor, Reverend William Franklyn Richardson III, plead for brevity from the scheduled speakers, who included Mount Vernon Mayor Ernest Davis, Abyssinia Baptist Senior Pastor Dr. Calvin Butts, Hazel Dukes, president of the NAACP's New York State Conference and former New York City Mayor David Dinkins.
"We would like you to keep your remarks to two minutes," Reverend Richardson said. "Do that out of respect for this family, who has already had one service and will go to South Carolina for another, so I ask that you would not labor them or any of us by going over two minutes."
None of the speakers managed to stick to the time limit.
Woods' eulogy was delivered by Reverend Al Sharpton who reminisced about watching "Sylvia's grow from a counter to a global sightseeing place." He said he was introduced to Woods and her restaurant while he worked as a tour manager for legendary soul music singer James Brown.
"The first time I met her was in the late 70's when James Brown brought me to Sylvia's. He used to go there when it was just a counter, but he loved the food there," said Reverend  Sharpton. "When he was in town…I would be with him and he would look at everybody and say, 'Let's go by Sylvia's.' And I would go, one, because I lived in New York and, two, because I was one of the few that understood what he was saying when he was talking."
Reverend Sharpton also shared stories of visiting Sylvia's with two other famous dining companions.
"I remember one night Bill O'Reilly from Fox News–that Bill O'Reilly–he wanted to go to dinner," the Reverend said. "He goes, 'I want to go to Sylvia's.' We went to Sylvia's and he got out of the car waiting for everybody to recognize him, but when you're going to Sylvia's, you're just somebody else going to Sylvia's."
Reverend Sharpton noted Mr. O'Reilly got into a bit of a controversy following their meal at Sylvia's when he went on his syndicated radio show and expressed surprise that "all the people up there are tremendously respectful" despite the fact "it's run by blacks" and has "primarily black patronship."
"I was amazed he was amazed," Reverend Sharpton said.
The Reverend also described eating at Sylvia's with President Barack Obama.
"There's a picture as you come into Sylvia's of then-Senator Barack Obama and I eating at Sylvia's. And that night he was on his way to the Apollo to have a fundraiser in his quest for the presidency, but you look at the picture and he's eating fried chicken and cornbread. I was on a diet, I just had coffee in front of me," said Reverend Sharpton, who recently became a vegetarian.
Reverend Sharpton also gave his explanation for Sylvia's appeal among Harlem's power lunch set.
"She built that restaurant as a family business and all of Harlem became her family….Sylvia was connected to the community. Today, we have others in business, but they see the community as something to go through on their way somewhere else," said the Reverend. "Sylvia wasn't trying to go somewhere else, she was connected to us. Wasn't no accident we had our meetings in Sylvia's. Other folks had chicken, wasn't no accident that every political figure went to Sylvia's, every major cultural actor went to Sylvia's, every major minister went to Sylvia's. She was connected to us."
After the ceremony, Reverend Sharpton accompanied several of Woods' crying family members to a private gathering in the back of the church as the guests walked out into the street. The Politicker spotted Mr. Paterson and asked him what he generally ordered at Sylvia's. He answered without the slightest hesitation.
"Fried chicken, collard greens and potato salad. Sylvia's problem with me was that I would always eat it. She was like, 'Why do I even put a menu in front of you, because you just want to eat the same thing.'" Mr. Paterson said. "I always say I'm going to have something else, but rarely did I."
A group of pallbearers placed Woods' casket onto a hearse were it made the journey from Mount Vernon to Owens Funeral Home in Harlem, taking the restaurateur's body on a final trip down 125th Street.