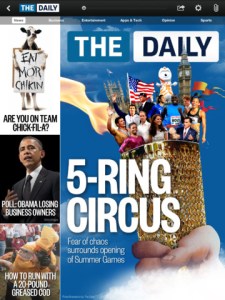 Today's, a special edition of Media Briefs: Things are not going well at The Daily today. We'll be updating the news live, as it comes in. Here's what's happening:
The Daily, Downsized (4:51 PM): Peter Kafka at All Things D dropped a bombshell this afternoon: According to "people familiar" with the plans, Rupert Murdoch's iPad-only newspaper, The Daily, is planning to lay off one-third of its staff (or: "The publisher plans to tell its workers today that it will fire 50 of its 170 employees").
That publisher is Greg Clayman, who with his wife, just closed on a $1.2M co-op in Brooklyn Heights. This comes on the heels of Daily editor-in-chief Jesse Angelo's recent reassurance to the iPad-paper's staffers of their own sturdiness, in spite of "haters" who would argue otherwise: "As for the latest misinformed, untrue rumors of our imminent demise, I would urge you to ignore them," he wrote in a published memo on July 13. They may now be slightly more difficult to ignore.
That said, (despite what some higher-ups at The Daily might think of the "haters" at The Observer), we wish them and their staffers the best of luck going into today's Big Meeting, which we hear just ended. And that said? If you're at The Daily, and know anything about what's going inside their conference room right now, or if you're not at The Daily any more, feel free to fill us in on what's going on. You can also call or text this reporter at 646-784-0038 with any details.
4:55: Another public memo has been published by Jesse Angelo, addressed to the publication's "Readers and Friends," this one explaining that the sports and opinion sections are being changed.
We believe our Opinion and Sports sections created fantastic and engaging original content, and we know they had many fans (myself included). But they also garnered the lightest traffic and reorganizing them will allow us to focus on the areas that have proven most popular, like original reporting, visually-impacting stories, great photographs and video, infographics and award-winning design.
In other words, the Opinion and Sports sections as they were staffed internally are dunzo. They're also locking The Daily in "portrait" mode on the iPad, which makes us wonder who on the design and coding teams—two of the most crucial components of the operation—got handed pink-slips today.
4:56: A tipster tells us that everyone who got laid off still gets to keep their News Corp-issued iPad, if they had one. So…there's that.
5:00 PM: One associate sports editor, Emma Span, Tweeted out earlier: "Yep, first found about my own layoff via Twitter. I feel just like an MLB player!" To make it even worse: "No venting to Gawker for me though. I liked it there."
5:05 PM: We're now told that it's the entire sports and opinion staffs that got hit, as well as some people on the primary news staff. Those names include: Deborah Hastings (news writer/producer), Melissa Arseniuk (multimedia producer/writer), Carmel Melouney (news reporter), Emily Canal (news) Elizabeth Semrai (news/travel editor), Chavie Lieber (news reporter), and Josh Bernstein (investigative correspondent). We hear that those names are news side-cuts, and that there shouldn't be many more where that came from.
5:16 PM: Hearing that Jesse Angelo is holding a staff meeting at 6PM. Also, side-benefit of getting laid off from The Daily? "I have to say it's a relief to be able to publicly mock Fox News again." The Power of Optimism.
5:18 PM: The Daily's national sports columnist, Dan Wolken: "To answer questions, yes, The Daily laid off sports staff today, including me. I'll be fine. Enjoyed the opportunity tremendously."
5:23 PM: We're hearing the severance package details leak out as well. One tipster got two months. Curious to hear what others got. This could be as a result of Worker Adjustment and Retraining Notification (WARN) Act mandates, or good will! We're not lawyers enough to know.
5:32 PM: The press release from Rubenstein PR reads: "A total of 50 full-time employees, 29 percent of the full-time staff, will be released." It also confirms what we've been hearing about the opinion and sports sections. Still no word on whether or not the fates of The Daily's office in L.A. (including former Page Six maestro Richard Johnson) have been affected or not.
5:55 PM: The D.C. bureau—which, really, was two people (Laura Parker and 18 year-old White House reporter Myles Miller)—is done.
6:01 PM:: We've now heard the "two months severance" number multiple times. Also, from a now-former Daily employee: "They [management] started to look really at all the finances of everything. Everyone thought it was going to be fine. Everyone said 'all this talk [about potential layoffs] is not true.'"
6:21 PM: Buzzfeed's John Hermann files a story about The Daily where one staffer notes that "edit was understaffed." Another tipster writes in to ask two questions: Will senior staffers be taking a pay cut? And will laid off staffers be released from the non-compete agreement that bars them from working for the USA Today, the New York Times, and People for a year after employment with The Daily has ended? Michael Calderone at the Huffington Post noted of the non-compete in May:
Upon joining The Daily, staffers agree to not work for the following "directly competitive" outlets for at least one year if they leave or are fired: USA Today, People, and The New York Times/New York Times Magazine.
6:35 PM: A source familiar with the situation tell us that the L.A. office of The Daily is closing, but that Richard Johnson will remain with the company, and in L.A. No word on the rest of his staff.
7:15 PM: Meeting's out. In it, Jesse Angelo and Greg Clayman insisted that News Corp backs The Daily, and that it is a success, but that the numbers simply weren't there for sports and op-ed (though no word was given on the news side-cuts). Sports editor Chris D'Amico (who one tipster called a "BEAST" in a complimentary manner) will be staying on as managing editor. We also heard The Daily's copy desk got hit hard, and that the L.A. bureau staffers who worked with Richard Johnson have been laid off, as well (as previously noted, Johnson will be staying with The Daily).
Everyone hit by layoffs at The Daily, however, will be receiving a "discretionary bonus" (taxed at the higher bonus rate) from the company in addition to their two-months severance pay. When the benefits run out, Daily staffers are eligible for unemployment benefits. It comes to many as a surprisingly sweet severance package on behalf of News Corp, but it's worth noting that layoffs hit some staffers right before the equity in their 401Ks could vest. They are also being encouraged to apply within News Corp. for new gigs, but most people probably won't considering that they'll lose the two months severance if they take a different job with the company.
The NDA/non-compete agreement will not be enforced for the laid off staffers, who are free to apply to jobs at USA Today, People, and The New York Times/New York Times Magazine, as well as CNN, The Guardian, and Huffington Post/AOL (which were also named in the non-compete). The non-solicitation agreement remains intact. Meanwhile, as it turns out, some people do not get to keep the iPads, while others do.
– – –
Elsewhere, in today's media news:
The DNA of DNAinfo: What's it like to work in the blisteringly exciting nu-newsroom of hyperlocal startup DNAinfo?
"Check your parks/playgrounds and see whether the sprinklers are on," wrote Billy Gorta, a senior editor who came to DNAinfo from the New York Post, in an email to staff on June 20. "Need outraged parents if they're off or pics of happy kids if they're on."
Joe Pompeo at Capital New York has the most in-depth piece on DNAinfo written yet. Other revelations: They'll be opening up shop in Chicago this Fall, there remains no great theory for why their incredibly rich backer Joe Ricketts is funding a hyperlocal news other than 'he thinks there's money to be made,' they took James "Jim" Fanelli from his job as assistant city editor at the New York Daily News earlier this month, and Ricketts isn't a fan of Obama. It is a wonderful read and should leave you with very few questions as to how that happened and how it's going to continue to happen. [Capital New York]
Pulitzer-Nom Pete Non Times: Sports reporter Pete Thamel is leaving The New York Times for Sports Illustrated after nine years.  Thamel was nominated for a Pulitzer by the Times in 2006, FBNY notes. [The Big Lead]
Hoda-unnit? The New York Daily News made a big fuss on their front page today about Hoda Kotb, NBC's fourth-hour-of-Today anchor and one-half of the reigning on-air boozing championship team with Kathy Lee Gifford. They claimed that Kotb, who was supposed to be on vacation, was called off vacation to be flown into her Today chair to save the tuchus of Savannah Guthrie, currently hosting for Today at the Olympics. But Hoda was always supposed to be going to the Olympics, an NBC flack told Fishbowl NY. They even had a Facebook poll about what Hoda should do when she's there ("Make a Drinking Game Out of The Changing of the Guard" was, sadly, not an option). Whoops? Who knows. Fishbowl NY filed the post on the Daily News story at 11:09 AM. The Daily News—which had posted the story at 2AM—updated it at 2:01 PM. The new penultimate graf on the story: "Our network insider maintains that Kotb's actual departure was up in the air and that Thursday's call came because of the sub-par ratings for the pre-Olympics coverage against the 'Today' show's rival." [FBNY, NYDN]
Tips, whatever? Put 'em here. But we're going to spend the rest of the day updating this Daily news.
fkamer@observer.com | @weareyourfek