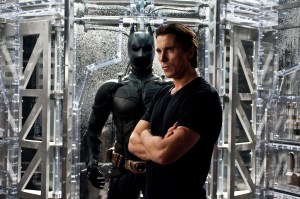 "Get with the program!" scolds another letter from a brainwashed fan of the Batman-as-seen-through-the-pretentiousness-of-the-Christopher-Nolan trilogy, "You are a dinosaur!" He's probably right, and I probably would—if I could only make one lick of sense out of what this nonsense is all about. Silly pop-culture comic book cinema about grown men in rubber masks and Styrofoam jock straps is bad enough, but incomprehensible gibberish to boot is just plain unacceptable. Halfheartedly, I give The Dark Knight Rises—the third and final Batflick in the Nolan trilogy—one star for eardrum-busting sound effects and glaucoma-inducing computerized images in blinding Imax, but talk about stretching things. That's all most immature audiences require for their hard-earned money these days. The rest of it should not be reviewed by anyone over the age of 12.
As caped crusaders go, I prefer Superman, Spider Man and, above all, Captain Marvel, who has been criminally ignored by the movies so far. (Can't you just see Michael Fassbender staring into the camera hissing "Shazam!"?) And as Batman goes, I had a lot more fun when he was fighting off Catwoman and The Joker at the Saturday afternoon double features of my youth in his campy bat cave with his jailbait roommate Robin. Drat! Christopher Nolan sent Bruce Wayne to a shrink and Batman lost his mojo. I like one caption writer's description of the Batman epics as "car porn for geeks and gearheads." But that doesn't make The Dark Knight Rises any better. Trash is trash, but when it costs an estimated $250 million (bat food compared to The Amazing Spider-Man's $137 million), the charges turn criminal and someone should subject the garbage man to a citizen's arrest.
Like all previous flicks directed by Christopher Nolan and written by his brother Jonathan, this one defies logic and reeks of repulsive, bloated self-importance (not to be confused with anything resembling narrative) and the arrogant conviction that no matter how slick, obtuse, confounding or incompetent it gets, the fanboys will slobber approval. Only a fool would tackle a synopsis, but briefly: We open eight years after Bruce Wayne (Christian Bale) vanished in disgrace, recovering from wounds inflicted by The Joker (Heath Ledger) and taking the fall for the death of phony hero and secretly corrupt D.A. Harvey Dent (Aaron Eckart). Haunted by the pain and tragedy of past losses and living in seclusion under Gotham City, the 73-year-old superhero—having first risen under the tutelage of Bob Kane in 1939—is lured back into the daylight by neo-noir villains like sexy cat burglar Selina Kyle (Anne Hathaway) and a monstrous drug-fueled terrorist with a mumblecore voice named Bane (British muscle McGurk Tom Hardy), who commands an army of killers living in the sewers with a face covered by a gas mask (he speaks through a wind tunnel); old friends like police commissioner Gordon (Gary Oldman), corporate officer Lucius Fox (Morgan Freeman) and Bruce's longtime butler Alfred (Michael Caine); and new allies like idealistic cop John Blake (Joseph Gordon-Levitt) and the cunning, enigmatic billionaire socialite philanthropist Miranda Tate (Marion Cotillard), who joins the board of Bruce Wayne Enterprises to save the empire from going under and turns out to be too good to be true. The coherence ends there. Sick and bent over—his X-rays have him looking like matchsticks—Batman comes out of retirement to the musical accompaniment of Ravel's "Pavane pour une infante défunte," digs the Batmobile out of mothballs and hobbles off to bring the world back into balance, starting with the Stock Exchange. The rest of the movie, which runs just under three hours, is an interminable barrage of exploding football fields, flying cars, computer-generated images of crumbling skyscrapers and bridges and raging mobs fleeing the nuclear destruction of Gotham City. When all else fails, Bane threatens to destroy the human race in 23 days with one brash act, and Bruce ends up flat on his back, in more ways than one.
Christian Bale mumbles and whispers through an echo chamber, changing his appearance and his voice for reasons known only to Mr. Nolan. Michael Caine chews holes through his dialogue with a peat-bog Cockney accent so thick you can't understand what he's talking about anyway. You can hoke it all up with crushing violence, but that doesn't make it pleasurable. Amid an endlessly contrived pile of red herrings, Marian Cotillard's character seems like something they went back and invented in post-production, while Anne Hathaway, who turns out to be Batwoman in mufti, comes off as a cold, karate-chopping zombie with cleavage. There are so many plot twists I stopped counting. The Nolan brothers seem to be making it up as they go along. Not one character is developed beyond a flat, one-dimensional cardboard paper-doll construct without heart and soul, not to mention flesh and blood. Not one of these distractions invades the plot for any purpose except to extend the running time. Speaking lines they cannot possibly understand, not one actor makes any attempt to be believable. So manufactured and synthetic that they eventually lose all sense of reality, they're like reconstituted orange juice and processed cheese. If The Dark Knight Rises is finally the funeral of Batman forever (promises, promises!), trendy technology once again triumphs over artistry, professionalism, taste and good clean fun.
Turning a mosh pit of mystical comic book gimmicks into a money pit of metaphysical mumbo jumbo, Christopher Nolan gives new meaning to both DUI and DWI—"Directing Under the Influence" and "Directing While Intoxicated"—while raking in millions. I'll have what he's having.
rreed@observer.com
THE DARK KNIGHT RISES
Running Time 164 minutes
Written by Jonathan Nolan, Christopher Nolan and David S. Goyer (story)
Directed by Christopher Nolan
Starring Christian Bale, Michael Caine and Gary Oldman
1/4