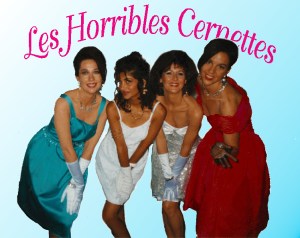 Next Wednesday, July 18, is the 20th anniversary of the first photograph ever uploaded to the World Wide Web. No, it wasn't a scanned image from the Vatican archives. According to this story on Vice Motherboard, it was a picture of four women from an amateur operatic society near Geneva, Switzerland, wearing 1950s-style prom dresses and beehive-like hairdos. It's kind of perfect.
How did the photograph of Les Horribles Cernettes, a comedy band based at the CERN laboratory—the world's largest particle physics laboratory—wind up in the hands of Tim Berners-Lee, one of the inventors of the Web, when he and his team were in need of a photo to test out a new-fangled edition of the Web? It's an amusing tale that involves Silvano de Gennaro, an IT developer at CERN who also managed the girl-band and wrote some of their songs, as well as Mr. Berners-Lee as a cross-dresser.
From the story:
"This was this kind of retro parody image," said Harvard photo historian Robin Kelsey. "There did seem to be something about that recycling of culture that seems so appropriate for the first image uploaded to the Internet, given the way that the Internet has spawned so much of that kind of recycling and mashing-up and pastiche and parody and so on."

"It's interesting — particularly for those of us who are relative old-timers — to realize that this technology, which still feels so new, already has its own kind of archaeology now," Kelsey added.

That archaeology isn't currently in any textbooks. Indeed, the 20th anniversary of the Web's first photo isn't even this July's most significant CERN-related news, obviously. Ultimately, in the history books, Les Horribles Cernettes are likely to be eclipsed by the device that shares their initials. And despite their significance, the subjects of the photo never felt like celebrities.
Check out the full details of this story and some videos of the Cernettes in action. Next Saturday, they'll stage their "last-ever" concert.