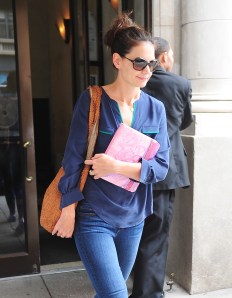 The 4th of July has come and gone and so, we hope, has our recent streak of broiling-hot weather. (Hell's Kitchen, indeed.) Our personal cooling-down strategies: abusing office A/C (which is at least 10 degrees cooler than the window units in our sauna-like brownstone), answering the dual siren calls of the ice-cream man's perpetually creepy jingle and the music wafting from the beer-chilled bar around the corner, and visiting the city's "pop-up pool" that opened last Friday under the Brooklyn Bridge. (What is a pop-up pool, exactly? And how does it differ from an inflatable one?)
To be fair, there's one thing we can thank this scorching heat for: it helped break the six-year fever of New York resident Katie Holmes, who finally came to her senses and served Tom Cruise divorce papers two weeks ago while he was in Iceland, working on a film. In record time, these two have hammered out a divorce settlement, with custody of their 6-year-old daughter Suri Cruise awarded to Ms. Holmes.
Now, did this have anything to do with Tom Cruise trying to indoctrinate his daughter into the world of Scientology? Of course not. You're just being paranoid, you cynical pre-clear. Here, why don't you borrow our e-meter? It's perfectly standard in any divorce to release a joint statement about "respect for each other's commitment to each of our respective beliefs."
But as one celebrity breaks free of endless family embarrassments, another is dragged back into the muck. Brad Pitt's mother railed against homosexuality and President Barack Obama in a recent letter to The Springfield (Mo.) News-Leader. Which makes it a perfect time for Mr. Pitt's younger brother, Doug Pitt (who was not the recipient any of the family's good genes), to appear on The Today Show with Matt Lauer to defend his mom—and perhaps slip in a little marketing for his new Virgin Mobile campaign.
Brad Pitt has yet to comment, but with speculation on his family life heating up, he might want to take a nice, cool vacation.
We hear Iceland is great this time of year.