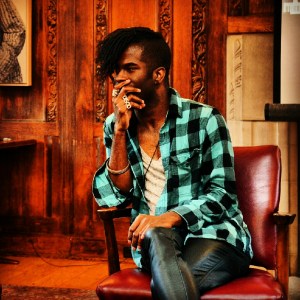 "I do a talk on Tina Turner," Yale doctoral candidate Madison Moore told The Observer recently, "and I wear a fringed skirt and bust out some Tina moves."
Mr. Moore is in the American studies department at Yale, and, if you must ask, he is preparing a dissertation on "fierceness."
"We know about her biography," he elaborated, "but yet every night she got onstage and she let the audience have it."
Mr. Moore is himself in possession of a certain charisma. When we met with him, he wore a plaid flannel button-down undone to reveal a sheer tank top; his braids, some black and some blonde, were swept to the side to reveal a single dangling earring. He speaks softly; you must lean in to hear him.
"True scholars are unorthodox, and Madison is a true scholar," wrote Mr. Moore's dissertation advisor, Prof. Joseph Roach, in an email. "He just dresses better than most of us."
That unorthodox brand of scholarship has included teaching a course in the history of nightlife, last fall, that brought students on a field trip to the Boom Boom Room and Le Bain bars at the Standard Hotel, which the New York Post was less than charitable about. "Some parents might have mixed feelings about the Yale syllabus," sniffed the paper. ("Yale had no problem with it," wrote Prof. Roach, "though News Corp. did.")
"There are many ways to study American history," said Mr. Moore, "and you can study the changes in cultural mores by studying the history of nightlife. It was really cool, actually! We talked about really good music and did a field trip."
The field trip was hardly the all-night bash the Post made it out to be: "We studied the architecture and the way it makes you flow through it, spending hours and hours and lots of money. When you go to a bar, you never get to see it, because it's nice. But to go at 3 p.m. on a Saturday, you see all the small details."
Simonez Wolf, former Beatrice Inn doorman and Madame Wong's founder, spoke in front of the class. Speaking of Mr. Moore, Mr. Wolf said, "He went in depth as to why we party—why do we like certain music? At Yale, this prestigious university, you would not expect this class."
Mr. Moore has brought a bit of Gotham to the hallowed halls of Yale—not that he's in New Haven all that often.
A New York habitué, he abandoned New Haven as a full-time residence after two years. "I don't like to be bored," he told us, "not that my work is boring—but everyone's work has its moments. But to me, to be in the library all the time: I don't think I could do it. It's an hour and a half away. It's not like I'm going to Japan." Even when he was living in New Haven, Mr. Moore interned at Jeffrey Deitch's gallery in New York, just to, as he said, "be part of this world."