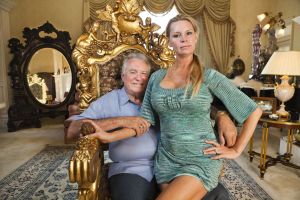 On Tuesday night, a smattering of Manhattan's societal elites mingled around a small movie theater in MoMa, chirping at each other across the rows about upcoming polo matches, interior decorating, and the party at the Spanish consulate that was allegedly taking place later that evening.
Nicole Miller sat near Geoffery Bradfield and Lisa Price, the two recently-profiled Brant children (Harry and Peter) lingered in the isles, Vogue's Hamish Bowles strolled in at an acceptably late moment. The Hiltons made a perfunctory appearance at some point and may have left early.
It was, to say the least, a strange crowd assembled for the Peggy Siegal Company screening of The Queen of Versailles, a documentary about the hubris of extreme wealth that won Lauren Greenfield the U.S. Director Award at Sundance this year, along with a distribution deal from Magnolia Pictures.
"I actually had to come here early, so I didn't get to see the crowd's reaction," Ms. Greenfield told us at the Royalton Hotel after party. "But my director of cinematography, Tom Hurwitz, told me that the crowd was much more…subdued than they had been at Sundance."
Mr. Hurwitz had put it to us a little differently. "Everybody was on their cell phones," he said, shaking his head in disbelief. "I've never seen an audience have that reaction to this movie."
We ventured that some of the themes of the film–which revolved around former Miss Florida Jackie Siegel and her time-share mogulite husband David Siegel as they deal with blow-back of the financial crisis in 2010–might have hit this particular audience a little close to home.
After all, the Siegels' saga was "almost Shakespearean," as Mr. Hurwitz had put it. "What did Shakespeare do, after all, except show us our human follies through the characters of kings and queens?" He asked.
The Siegels may be the closest thing our country had to royalty, even if they didn't have the household names of some Bravo reality stars. The scariest thing about this family, in fact, is that we might not have known about them at all, had Ms. Greenfield not met Ms. Siegel while photographing her collection of purses.
He was the billionaire owner of Westgate Resorts who took credit for getting George Bush Jr. elected twice (the second one, he hints, not exactly legally), whose hotel in Las Vegas had the brightest sign on the strip. With their seven children together (and a niece living with the family), Mr. and Mrs. Siegel had been "living large" a good two years after the stocks fell,  according to the director, and were in the process of creating their dream home in Orlando.
Modeled partially on Versailles, the 90,000 square foot palace would have also been the largest house in the United States, had the funds not run out halfway through construction. In almost a blink of an eye (or five minutes of screen time), the Siegels go from riches to rags, and Mr. Siegel becomes King Lear, raging against the storm of banks who will no longer lend him money.
Because, as it turns out, there's so much more at stake than just a house, or just a hotel. Mr. Siegel had not put any money aside for his childrens' education or financial future. He had mortgaged the home they currently resided in when he didn't have to in order to finance the building of more resorts. Thus when the sub-prime mortgage crisis does hit the family, everything they lose everything–not just the dream home, but the jet, the cars, the help…and at least one pet.
It's hard not to judge the Siegels, who seem to be as much the cause of the financial meltdown as its victims. (In one scene, Mrs. Siegel complaining about the banks, says she thought the government bailouts meant the money was supposed to funnel back to the working people, or "people like us.") But even within the family, there are tiers: Ms. Siegel seems merely clueless and unhappy as her husband strikes a more malevolent cast. He claims that his marriage isn't giving him support, withdraws from his family, and becomes reclusive and cold as he tries to solve the puzzle that will bring him back his good fortune, and, we get the sense, another wife. It's little wonder that Mr. Siegel is currently waging a lawsuit against Magnolia for defamation; the real question is why he allowed himself to continue being filmed after things had taken such a turn for the worse.
"Actually, David wanted us to keep filming," Ms. Greenfield told us. "He was very gracious, allowing us to stay at the home and constantly film. He never kicked us out…I think he would have liked us to stick around."
"Until it became a redemption story?" We asked.
"Yes, exactly," Ms. Greenfield said. Apparently Mr. and Mrs. Siegel are still married. Mrs. Siegel had been "incredibly supportive" of the film, and had gone on tour with it.
Jackie Siegel was even there that evening, at the screening and afterward at the Royalton. Positioned directly at the front near the door she gamely said her hellos, but nothing further, as her publicist would not allow her to talk to the press.