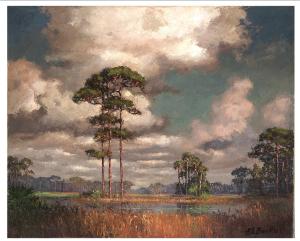 This morning NPR ran a story that mentions that both Michelle Obama and Steven Spielberg own paintings by the Highwaymen, the prolific African-American landscape painters who were active in the post-Jim Crow Florida of the 1960s and '70s.
The group, led by Alfred Hair, found themselves under the tutelage of A.E. Backus, the "dean" of the Florida Landscape school, who opened his doors to young painters, in Fort Pierce, Fla., which was segregated by train tracks and the site of Ku Klux Klan marches. It is a mythical tale of art, racial struggle and murder.
From the story:
And Backus was exceptional in other ways, too. He kept his studio doors open to everyone, including people of color, and all kinds of people came. He loved jazz. He was friendly with Harlem Renaissance author Zora Neale Hurston, who spent her last years in Fort Pierce. And he gave the young Alfred Hair a job stretching canvases.

Soon enough, Hair himself was painting.

Hair, James Gibson and a handful of others soon hit on an irresistible marketing strategy: They would paint all day, and hire friends to sell the paintings along Route 1 — since, after all, they weren't allowed in galleries. The paintings were dreamy, Eisenhower-era landscapes of what everyone hoped Florida would be.

These painters were young, in their 20s. They worked hard and played hard. There was the dog track, there was car racing, and there were women. No one lived like The Highwaymen, the envy of their peers. And there was rivalry.
The whole story is here.