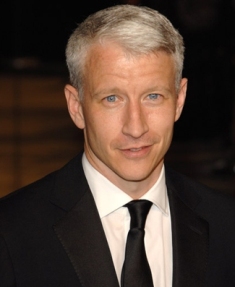 Last night at Eastern Bloc, the Lower East Side gay bar owned by Anderson Cooper's purported boyfriend Benjamin Maisani, the mood was far from celebratory–it was downright staid. Five or so gay men watched the movie 54 on speakers. The movie is about when New York had a terrific club scene.
We asked a fellow barfly what they made of Mr. Cooper's announcement. He looked around–Mr. Maisani was not in for the evening. "It was everything," he said, using slang for something beyond fabulous. "It was like–he wasn't even bothered. He was, like, why do you even care? So Wednesday Addams."
The celebrity community is far from unbothered; Mr. Cooper's friend Kathy Griffin wrote a long entry for The Daily Beast describing why she never "outed" her pal, despite much media interest. Andy Cohen, on whose Bravo talk show Mr. Cooper often appears, wrote a brief Tweet acknowledging Mr. Cooper's coming-out: "Well put, Anderson! #Mazel." Jesse Tyler Ferguson, an openly gay actor on Modern Family, sought to strongly associate himself with Mr. Cooper, writing "One of the reasons I look up to my friend@andersoncooper is his amazing eloquence." (Mr. Cooper's own last Tweet was in June, and about an interview with a cult member on the talk show Anderson).
In general, silence from conservatives on Mr. Cooper has been deafening: Brett Bozell of the Media Research Center got headlines in using an anti-gay slur about Cooper on Twitter, but shouldn't that position have been occupied by a Rush Limbaugh-level star? (Indeed, Mr. Limbaugh took the opportunity to mock CNN–not the gay community.)
Perhaps it really isn't that big a deal. As one of a group of men speaking outside Eastern Bloc last night noted, "There should be, like, a celebration here tonight. He should be here."
"He just came out," replied a friend. "He probably wants to keep a low profile."