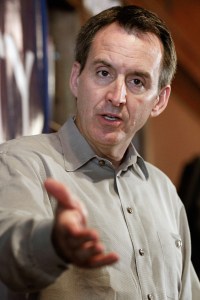 Tim Pawlenty, one of the frontrunners in Mitt Romney's veepstakes, appeared on Fox News' Your World With Neil Cavuto and the host asked him about the perception he's potentially too boring to be Mr. Romney's running mate. Mr. Pawlenty rejected the notion and said he'd be willing to show off his "tats" to prove he's not dull.
Mr. Cavuto attempted to pose the question as diplomatically as possible.
"You have been whittled down to what I'm told is a shorter list, apparently because you're considered. At least by the Romneys, we are told sir–this could be wrong, safe, reliable, steady as she goes, nothing too flashy. Dare I say dull?" Mr. Cavuto asked.
Mr. Pawlenty cut him off.
"Now, if you goad me into it, I'll show you my tats," said Mr. Pawlenty with a broad smile.
Mr. Cavuto burst out laughing at Mr. Pawlenty's answer.
"I'm teasing, I'm teasing," Mr. Pawlenty said.
After his laughter died down, Mr. Cavuto pressed the point and asked Mr. Pawlenty whether he thought there might be a downside to his relative dullness.
"We have a lot of people who are entertainers, who can light their hair on fire or, you know, do whatever," said Mr. Pawlenty. "The bottom line is, these are serious times, we need seasoned, experienced people who get the job done."
Mr. Cavuto asked who Mr. Pawlenty was referencing.
"Who lights their hair on fire?….Does Chris Christie light his hair on fire?"
Ever on message, Mr. Pawlenty, who has campaigned aggressively for Mr. Romney over the past few weeks, explained he was taking a swipe at President Barack Obama.
"I'm just saying, we dont need an entertainer," Mr. Pawlenty said. "I'm talking about Barack Obama. Barack Obama gave us this soaring rhetoric last time. Soaring rhetoric and it turned out to be a bunch of empty promises."
Mr. Cavuto asked Mr. Pawlenty one last time if he thought American voters might be turned off by a less flashy candidate. Mr. Pawlenty responded by saying we should be debating "who can get this country moving again" rather than who will be "entertainer in chief."
"Relative to who? I'm not as flashy as some, but compared to some others, I'm right in there," Mr. Pawlenty said. "Nontheless, I'm not defending it one way or the other. I'm just saying people–rhetoric, and teleprompter and jokes, you know, that kind of stuff doesn't put gas in our cars, it doesn't pay our mortgages, it doesn't pay our health insurance premiums. People are hurting."
Before finishing the interview, Mr. Pawlenty got in one last dig at President Obama.
"I don't need more teleprompter speeches about hope and change," he said. "It's a bunch of, you know, B.S. Frankly, he didn't do it. He didn't deliver."