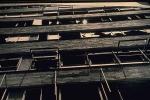 From the Los Angeles Times (h/t The Reformed Broker):
Michael Steven Poret, a broker at UBS Financial Services, was arrested in Encino last week.

Police say that Poret vandalized numerous businesses along Ventura Boulevard and several private homes in Beverly Hills.

A witness account and private surveillance footage have depicted the vandal as a graying man in white gloves firing marbles at plate glass windows with a slingshot from the driver's seat of his car, then driving away in no apparent hurry.

Authorities believe that Poret could be connected to more than 20 vandalism incidents in Beverly Hills and more than 50 in Encino, as well as several other vandalism reports authorities have received in Van Nuys and Topanga Canyon.
Mr. Poret has been registered as a UBS employee since 2008, and was registered as an employee of Merrill Lynch from 1995 to 2008, according to the Finance Industry Regulation Authority's broker check service. There are no slingshot-related events on his FINRA file.