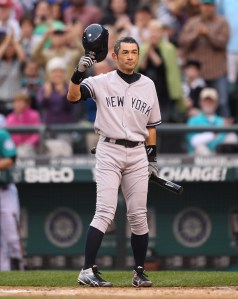 It's time for us to escape the muggy, soup-like weather of New York, where we're all the more conscious of the fact that with every breath, we are inhaling someone else's recycled air. Oh mighty Mayor Bloomberg, deliver us from damnation! Or at least from this city's cursed summer months. If we can eliminate transfats, why not the heat?
Of course, a clever individual might just pack their bags and head for a different climate completely. Take Jeremy Lin, who—with the ever-helpful hand of fan favorite Jim Dolan—may have realized it's not the heat, but the humidity, when he signed on with the Houston Rockets. But that doesn't mean New York isn't without its own acquisitions: The Yankees picked up one of the greatest hitters of all time in Ichiro Suzuki (who's looking a little grayer these days—distinguished, we say), Rick Rash for the Rangers, Jeff Otah for the Jets and possibly English Premier League veteran Tim Cahill for the Red Bulls. Welcome to town, boys. We hope your managers set you up in an apartment with central air.
Meanwhile, the rest of us just can't wait to escape from New York, be it by plane, train or Jitney-mobile. Sure, getting stuck in traffic can make the drive to and from the Hamptons all the more fun, but if you live in Brooklyn, you may be in luck. A new ferry traveling between Greenpoint (it sets sail from Mitchell Park) and Sag Harbor is being christened the new Water Jitney, which raises only one question: Can we have a nice afternoon drink on it? (Scotch, neat.) If not, we'll just stick to the LIRR, thank you very much.
We were also thinking about heading to Los Angeles for a quick break from the heat, but it's not much better over there. What if we run into Lindsay Lohan or Tara Reid, which the weather has seemed to resurrect like ghosts from 2003? Ms. Reid was hospitalized in France with acute pancreatitis, which probably has nothing to do with all those horrific stomach surgeries (and corrections to said surgeries) she endured back in the early-to-mid-aughts. Ms. Lohan finished production on her made-for-TV movie about Elizabeth Taylor, Liz & Dick, and miraculously found a new job opposite porn star James Deen in Bret Easton Ellis and Paul Schrader's new Kickstarter-funded film, The Canyons. Talk about a comeback through the back door. Not that Mr. Ellis doesn't have problems of his own: primarily the unadulterated Nikki Finke experience. The Deadline Hollywood editor-in-chief is out to ruin the American Psycho author after he tweeted that he lived in the same building as the reclusive blogger. Now ICM, the agency that represents Mr. Ellis, has been forced to call in the big guns—litigation lawyers Howard Weitzman and Lawrence Iser—to protect their employees against the onslaught from the relentless Ms. Finke. (For our own purposes: How many emails in a 24 hour time frame constitute harassment?)
Some advice? Steer clear of L.A. until the bloodshed is over: you don't want to be caught between these two. There's also the possibility that you might end up sitting next to Fred Willard at Arclight—and that would just be awkward.