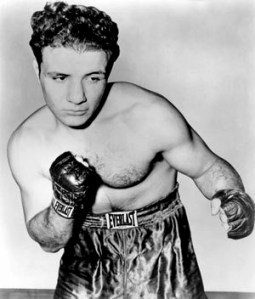 Raging Bull, Martin Scorsese's classic film based on the life of boxer Jake LaMotta, ends with an excruciating scene of the felled champ before a mirror, readying himself for a grim stage act. The film came out in 1980, but in real life, Mr. LaMotta, now 90, is still at it, planning a two-week engagement of his show Lady and the Champ at the small Richmond Shepard Theatre in the East 20s this month. The play depicts, through song and monologue, Mr. LaMotta's relationship with his co-star and the woman who will become his seventh wife, Denise Baker, who is also directing the show.
The Transom recently visited Mr. LaMotta in his Midtown East studio apartment. The room smelled of stale cigarette smoke. "I just started smoking cigarettes," Mr. LaMotta explained. "I got nothing to do."
The apartment is filled with memorabilia from a boxing career and a less-eventful career as a post-sports celebrity, from framed photos of Mr. LaMotta in the ring to a large Raging Bull poster. Mr. LaMotta's career ambitions are limited—we asked him what roles he'd like to play after his current show ends. "I want to be a good actor—when I get through with this, I want to do better parts, bigger stuff, for as long as I keep going on, which is not too long."
Otherwise, time is spent watching television and visiting with family: "I've got time to see my children, ask how they're doing. Of course, they're always asking for money … but I give what I can." He maintains three homes with Ms. Baker.
We asked what happened to his first six wives (we were familiar with at least one tempestuous marriage from its onscreen portrayal in Raging Bull). "My first wife died from eating mushrooms. My second wife died from eating mushrooms also. My third wife died from a fractured skull. She refused to eat the mushrooms." He had been practicing the joke from the show. "I made a joke out of that. And it goes over big. People laugh."
When asked if he would be able to remember his lines, Mr. LaMotta recited to us a monologue from On The Waterfront, the one about how he could've been a contender.
"You can't believe a 90-year-old man can do that," he said upon concluding. "But God blessed me with a hard head. Even when I was fighting, no one could hurt me. Thank you, God." As for the experience of having his life probed by Scorsese and consumed by audiences, Mr. LaMotta has only well-rehearsed boilerplate. What was he trying to convey to his fans with the show? "I'm not trying to express anything. I'm just trying to do the best I can in whatever I do."
While Mr. LaMotta described the show to us as an opportunity to alleviate boredom and make some money, Ms. Baker, whom we met separately, was excited about the possibilities beyond the East 26th Street theater. "We'd been looking to do this for a long time. He's a real ham. And truth be told, I've always wanted to have a partner I can work with onstage." Ms. Baker met Mr. LaMotta years ago at P.J. Clarke's. "He was beckoning me over to him," she remembered, "and I said to my friend the bartender, 'Who is that old man who keeps beckoning me over to him?' and he says 'That's Jake LaMotta!' and I said 'Who's Jake LaMotta?'" She had previously been in the cast of the 1974 off-Broadway play Let My People Come, but, she says, spooked by the fame and TV offers she was deluged with, she fled the city.
"The goal is to go to Broadway. That's what we both want," said Ms. Baker, a youthful 60 in a see-through lime top and gym shorts. She anticipates that the lawsuit over the fate of Raging Bull II, the allegedly unauthorized sequel, will end quickly. (Mr. LaMotta asked us to explain the contretemps to him.) She looks forward, too, to the release of a documentary about Mr. LaMotta that has already shot 88 hours. "We're going to take it worldwide," she said.
"Originally we saw ourselves as George Burns and Gracie Allen. But we knew we were different. So we figured we'd be our own legends."
Mr. LaMotta entered the room, shirtless; he'd been taking a shower. He looked at us quizzically. "You were here yesterday," he said, confoundedly. "And I gave you a lot!"