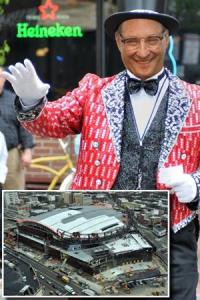 A lot of bombast has been spread on both sides of the great Barclays Center battle of the past decade, but Andrea Peyser manages to take the cake as she always does, along with the amazing "photo composite" the Post put together of Bruce Ratner as ring leader. Cue Ms. (or is it Madame?) Peyser:
When Barclays is christened this fall as home of the NBA's Brooklyn Nets, Ratner will have pulled off the seemingly impossible. Almost single-handedly, he'll have brought the Borough of Kings, long neglected and overshadowed by Manhattan, back to buzzworthy health.

"A young person can go to Brooklyn to see hometown [rapper] Jay-Z. A family who lives in the projects will walk here or take the bus. This is the soul of Brooklyn.''
The buzz is back! But not without alienating the poor, project-dwelling locals. How about those $30 tickets for all! Without this, there would be nothing but needles littering the borough's beloved brownstones.
When I toured this site in 2004, it was a disgrace. It was scarred with toxic rail yards that had squatted on this spot, like a disease, for decades. Then I spied a pile of hypodermic needles.

It was long past time to breathe air back into Brooklyn. Or shut the lights and get the hell out.
Brooklyn 2.0: We'll leave the lights on for you.