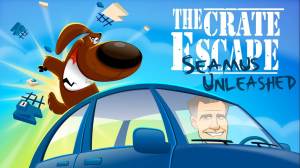 The founders of Dogs Against Romney, the PAC that has been, well, dogging Mitt Romney for the infamous tale of the time he strapped his Irish Setter, Seamus, to the roof of his station wagon during a family road trip in 1983, are releasing a new mobile game about the incident. The Crate Escape: Seamus Unleashed will be available as a free download for iPhone and iPad users late next month.
"We have over 65,000 passionate supporters in Dogs Against Romney whom I know will love this game," Dogs Against Romney co-founder Scott Crider said in a statement. "In addition to being fun and hilarious, it raises awareness about a shocking incident of animal cruelty."
The Crate Escape: Seamus Unleashed will be released on August 26, which is "National Dog Day" and also happens to be one day before the Republican National Convention in Tampa. According to the game's Facebook page, the storyline involves "Seamus get[ting] revenge against his arch enemy, Mitt Romneya. A photo included in the press release shows and angry Seamus chasing Mr. Romney by a bank on the beach as the presidential candidate drops dollar bills, a clear reference to the ongoing controversy over Mr. Romney's offshore assets.
Watchdog Interactive, LLC, a company owned by Mr. Crider and his fellow Dogs Against Romney co-founder Morgan Robinson teamed with app-maker Censault to promote and market the game. According to the press release, The Crate Escape: Seamus Unleashed will "offer upgrades and in-game purchase opportunities that will let players help raise funds for important causes ranging from breast cancer research to veterans causes and more."