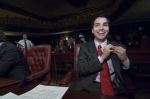 Queens Republican City Councilmember Eric Ulrich released a statement this afternoon defending the New York Police Department's use of stop-and-frisk and urging increased use of the practice in wake of a series of deadly incidents last week.
"Stop and Frisk works-it's as simple as that," said Councilman Ulrich. "We absolutely cannot afford to play politics when it comes to people's safety. The recent spike in shootings is further evidence that we must be diligent about getting illegal guns off our streets."  
In his statement, Mr. Ulrich referenced Chicago, where a new gang-fighting strategy has been widely criticized as leading to a spate of violence.
"All you need to do is look to Chicago to see what happens when you abolish successful crime-fighting tactics," he said. "We cannot allow New York to go the way of Chicago where innocent people are falling victim to gun and gang violence because our police don't have to tools they need to protect us."
Mr. Ulrich is currently in a GOP primary for the State Senate against Juan Reyes. The winner will face incumbent Democrat Joe Addabo.
Mr. Ulrich's statement comes as Mayor Mike Bloomberg has refused to back off the NYPD's stop-and-frisk practices, calling last week's violence "an aberration."