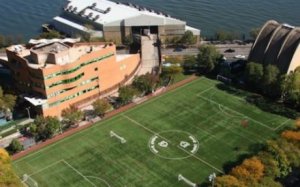 The Bloomberg Administration's plans for a waste-transfer station in Yorkville mean that Upper East Siders will no longer be able to dump their trash on outer borough residents, and they are not happy about it.
The neighborhood's residents can be a difficult bunch when it comes to government-sponsored projects in their backyards, as administrators of the Second Avenue subway line can attest, and they have been vigilant in their refusal to become trashy — the waste-transfer station was delayed successfully for close to a decade.
But, now that the $240 million project has received federal approval in the form of a permit by the United States Army Corps of Engineers, the Yorkville waste transfer station should be up and running by 2015, The Times reported yesterday.
The administration said the plan, which also includes a few stations in Brooklyn and Queens, would move trash onto barges, reducing traffic and emissions from garbage trucks all over the city. The new stations would be part of an effort to make sure every borough does its part in taking out its own trash, rather than dumping the loads on Staten Island and the Bronx—there are currently 13 waste-transfer stations in the South Bronx.
The Upper East Side station is meant to serve the borough of Manhattan, but not if the adamant opposition to the plan has anything to say about it. Assemblyman Micah Kellner still has hopes to deter the plan, and recently filed a lawsuit in State Supreme Court, where Mr. Kellner told The Times they will see the Bloomberg administration on Aug. 17.
"I am more than hopeful that we will win in court and finally put this ill-conceived garbage dump to rest," he said.
It remains to be seen whether or not the courts will agree that a waste-transfer station that will move more trash responsibility from traditional low-income neighborhoods equally across the five boroughs and reduce the number of garbage trucks is "ill conceived."