Coney Island's annual Sand Castle Contest, sponsored by Astella Development (via Luna Park Flickr and Getty)
dgrantobserver
New Jersey resident Hector Patino won for his domestic violence awareness sculpture
dgrantobserver
The D'Onofrio family, hard at work.
dgrantobserver
Posing after big win.
dgrantobserver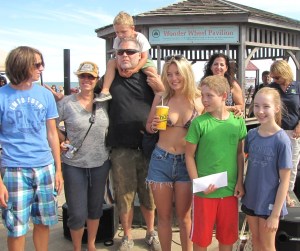 For 22 years, the affordable non-profit housing organization Astella Development Corporation has been sponsoring the annual Sand Castle Contest out on Coney Island. Flying a little under the radar–at least compared to Coney's other summer contest–this year had a big boost in publicity thanks to actor Vincent D'onofrio, who channeled his newly-refreshed mind elsewhere…like building one of the most elaborate sand sculpture with his family.
This weekend, Mr. D'onofrio and his family–eight members total, including wife Carin van der Donk and their three children, Leila, Elias, and Luka –took home first place for "mixed category" in Coney Island's Sand Sculpture contest, which was co-sponsored by Astella and the WCS/NY Aquarium.

According to DNAInfo.com, which has photos from the event, Mr. D'onofrio's team created an elaborate treasure hunt with their grainy particles. It included " an elaborate treasure chest that was guarded by sand skeletons, and decorated with gold coins."
Check out the other winning sculptures, courtesy of Astella Development.