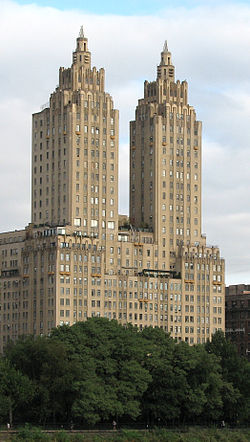 Other luxury buildings may have failed in their bids to squelch smoking within their walls, but that has not stopped a Central Park West co-op from trying to evict a chain smoking trustfunder.
The El Dorado, where celebrities like Alec Baldwin and Marilyn Monroe once lived (both known to to light up on occasion), is trying to oust ninth-floor resident Diane Wells for her smoky ways, according to the New York Post.
"On multiple occasions, the cigarette smoke and odor [have] filled the entry halls on at least the ninth and 10th floors of building, requiring shareholders to traverse a cloud of smoke between the elevator and their apartment entrances," the complaint says, according to the Post.
The problem? While a building can, in its rules and bylaws, forbid smoking on the premises, this one doesn't. And Mayor Bloomberg's proposed legislation won't help them here—that would only requires that buildings disclose their smoking policies, not mandate a smoking ban.
Although Ms. Wells has lived in the four-bedroom apartment that she inherited from her mother Constance Cheney for a number of years, the building asserts that holes in the walls and plumbing have made the situation worse and that Ms. Wells refuses to let workers in to fix them or to use the air purifiers her neighbors have bought her.
And there are indications that Ms. Wells, a transsexual who was born Jonathan Cheney, has used cigarette smoke for vindictive purposes before. She was convicted for assaulting her mother in 2005. The prosecutor for the case told the court that the mother described "incidents of physical and emotional abuse where defendant blew cigarette smoke in victim's face during an argument over money and pushed the victim backward into a wall where her head hit a picture frame."
The New York smoking community, already under siege and dwindling in number, will no doubt be upset to hear about this latest effort to extinguish Ms. Wells' right to light up at home. But it may never come to a battle of the butts—she is also behind on her common charges and is battling her other two siblings for control of the apartment and the rest of her late mother's fortune.
kvelsey@observer.com