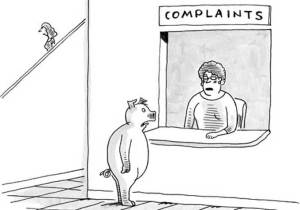 It must be something about having our cable indiscriminately taken away from us: we're all back to watching re-runs of Larry David's seminal show and getting misty-eyed.
First there was this week's caption contest from The New Yorker, which ripped off Elaine's idea from a 1998 episode. It involves a pig going up to a complaint box, and yes, Kramer's answer is definitely the winner: "My wife is a slut."

It only took The New Yorker fourteen years to "publish" their next issue, in Seinfeld time.
But that wasn't the end of Seinfeld-ism for the week. Yesterday, a new web series from Jerry Seinfeld, Comedians in Cars Getting Coffee. The first episode featured the comedian and Larry David driving around, talking about pancakes and hot lunches. Definitely worth a watch, especially if you are David Remnick and are finally catching up on the last two decades of television.