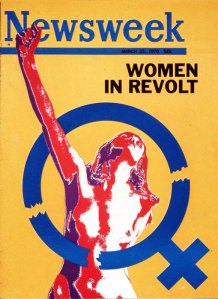 Columbia Journalism Review editor-in-chief Cyndi Stivers interviewed Lynn Povich, one of the women who sued Newsweek for gender discrimination in 1970. In addition to being sexist, according to Ms. Povich's account, Newsweek's bullpen was a pheromone swamp.
The thing about newsmagazines [in those days] is, you have a class of young women who are coming in, and then you have all these guys: married, single, whatever. It naturally sets up this sort of "office wife" situation, because all these women are checking stories for these guys—the "holy writers," as one of the women said. It was very tempting, and I must say, whether they were married or single, there was a lot of sex in the office. There just was. And of course, after the sexual revolution of the mid-'60s, even more so. Because there are a lot of people in their twenties, and hormones are raging, and the Pill had come, and the sexual revolution was on, so… [CJR]
Speaking of Newsweek: The New Republic totally Tina Brown-ed Kate Middleton. [The New Republic]
Did you know that Washington Post CEO Donald Graham can't make it 1989 again? [Poynter]
New York helpfully sorts Rupert Murdoch's Twitter rants by topic. [NY Mag]
It might even be useful for News Corp. assigning editors. For example, one of Mr. Murdoch's pet topics is Scientology, which he slammed on Twitter after news of Katie Holmes and Tom Cruise's divorce broke. Today The Daily has an exclusive about the creepy church's ties with Los Angeles public schools. [The Daily]
Tom Ford International chairman Domenico de Sole's daughter, Vogue senior editor Rickie de Sole, wed entrepreneur Derek Webster. (Guess who designed the dress?) The party was at the New York Yacht Club in Newport, RI, and "all the Vogue girls" were there. Why is the New York Yacht Club in RI? Why does Vogue employee children? [NY Post]
Brian Farnham, former editor-in-chief of AOL's struggling local news start-up, Patch, says the media peanut gallery needs to give fake byline-using, reporting-outsourcing company Journatic a second chance:
Here's a truism that journalists don't like to admit: as much as they are earnestly rooting for somebody to figure this thing out online and make sustainable paychecks possible, nobody nitpicks, scoffs, browbeats or straight-up righteously excoricates mistakes faster or harder. That tendency, of course, is what makes journalism journalism. It's also one of the things that makes the online news business problem so hard to solve.
We assume that spelling of "excoriates" was bait, then. [Street Fight]
We are now in the "If you liked E.L. James's 50 Shades of Grey, you'll love ___" era of publishing. [NY Times]
Pagan Kennedy has taken over the Who Made That? design column at The New York Times Magazine. [Fishbowl NY]
David Carr says pension payments might bankrupt more newspapers. [NY Times]