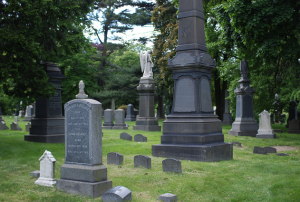 Though Anthony Weiner is no longer advocating to place a naked man in the "free stuff" section of Craiglist, the city has plotted its own scheme for relocating the unclothed, kind of sexist statue.
The Triumph of Civic Virtue might move from its Queens home in Kew Gardens to the Green-Wood Cemetery in Brooklyn, according the Daily News.
The city is looking to replace the statue, which features a man standing over two sirens, with a plaza dedicated to famous women from Queens. (We speculate that the sexist undertone some have associated with the dilapidated statue sparked this idea.)
Nevertheless, the statue will be once again on the move, having been initially moved to Queens to keep it from "mooning" Mayor Fiorello LaGuardia.
"We had always wanted the statue restored but there was not money to do this," said Borough President Helen Marshall in a statement. "We are glad that it will now be restored but would have preferred that it stayed here in Queens at its present location."
Though Green-Wood Cemetery officials refused to comment to the News regarding plans for the statue, family members of its sculptor, Frederick MacMonnies, are apparently buried in the cemetery. There is talk of moving Mr. MacMonnies to be nearer the statue. Because apparently the dead do not mind being mooned.
sgrothjan@observer.com