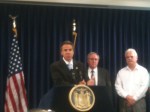 Today, Gov. Andrew Cuomo summoned threatening storm clouds to the New York region, used them as a pretext to bring the warring sides of the Con Edison labor dispute together, solved that dispute, and his work done, sent those clouds back out to sea again, and brought forth the sun.
Or so it seemed at least at a hastily-arranged press conference at Mr. Cuomo's midtown office today, where the governor, the head of the utility and the head of the utility workers union gathered to announce the end of a nearly month-long lockout of over 8,000 workers and to heap praise on this coup by the governor.
"Thank you Governor Cuomo for really making this possible," said Kevin Burke, CEO of Con Edison.  "We really had some tough issues and under the governor's leadership we really came together today, resolved those issues."
"This is probably one of the toughest contracts I have done in a while," said Harry Farrell, president of Local 1-2 of the Utility Workers of America. "But with the governor overseeing this whole process it really helped us to move the process along…We would never be able to get this done without the governor's intervention."
Only yesterday, the two sides were at a knife's edge, with Con Ed workers heckling utility vice-president John Miksad as he testified before a State Assembly committee, and Mr. Farrell telling reporters  that if they believed Mr. Miksad's testimony they "believed in the tooth fairy," and "I've never seen people negotiate the way these people negotiate."
Asked what had changed since then, Mr. Farrell said, "To me the change came this morning when we were called to the governor's office and through his intervention we were able to come to an agreement and settle this contract."
Mr. Cuomo joked that the key was, "They spent five hours in a room with me and they desperately wanted to leave the room. I think that is actually what did it. They came to terms to get away from me."
In a more serious moment, Mr. Cuomo said that because the sides came together to negotiate a band-aid solution with the approach of a major storm, they were quickly able to map out a more long-term solution, albeit one that only took a few hours to complete, apparently. However, it is hard not to overstate the influence that Gov. Cuomo must have exerted over this process, especially considering there has been other extreme weather during the month-long lockout, but it is only recently that the criticism of Mr. Cuomo had grown loud enough for him to be spurred to act.
Mr. Cuomo however expressed no regrets about not getting involved sooner.
"A governor doesn't really get involved in labor disputes in these types of issues normally," he said "It was the storm that got me involved personally."
The Politicker, meanwhile, has looked out the windows of our midtown headquarters, and, in all seriousness, noted that there is not a cloud in the sky.