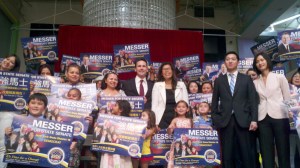 A D.J. played fast dance beats as attorney John Messer took the stage at the Flushing Mall this afternoon to formally announce his campaign against State Senator Toby Ann Stavisky in this year's Democratic primary. Introducing and endorsing Mr. Messer first was Isaac Sasson, who ran against both Mr. Messer and Ms. Stavisky in 2010. This election, Mr. Messer pointed out, will be a more direct, one-on-one battle.
"The reason why she won is that we had three people in that election," he explained at the start of his speech. "Everybody knows that when you bring more people into a race and you divide the vote, it gives an opportunity for an incumbent to win even though they don't have a majority of the votes."
"So the reason why we're really excited in this election, guess how many people are going to be on the ballot?" he continued. "Two!"
Another key difference is that redistricting reshaped Ms. Stavisky's district in order to make it majority Asian, an attribute Mr. Messer very much highlighted at his announcement event, with Chinese speakers and signage, not to mention his speech, which criticized Ms. Stavisky for not doing enough outreach to the community.
"This district is 53% Asian, but over the last … decade since Toby Stavisky has been in office, there's never been an Asian that's worked in her office," he said. "As you can see here today, both of my campaign co-chairs are Asian, but it's not something political for me, it's something real. My family is Asian, my wife is Asian, and, according to my son Ryan, he's half Asian."
Defeating an incumbent is never easy, however, and Ms. Stavisky has been endorsed by every Asian elected official in the area, including congressional candidate Grace Meng. Interestingly, Ms. Meng's Republican opponent Dan Halloran was also in attendance at Mr. Messer's event.
"John's a friend, he's done a lot great things in the community," Mr. Halloran said to explain his presence, emphasizing that he has not endorsed any candidate in the race.  "Let's have a fight on the issues, let's talk about the issues. We get too distracted with party politics. It shouldn't matter if you're a Democrat or a Republican, it's can you fix the problems, do you listen to the people?"
For his part, even though he is campaigning for the Democratic nomination and only members of that party will be able to vote for him on September 13th, Mr. Messer declined to immediately offer an endorsement of either Mr. Halloran or Ms. Meng.
"Is it a hard decision?" he said, repeating our question inquiring on the matter and proceeding to pause and reflect. "You know what? I really just wish them all well."
Update: Mr. Messer reached out to say his team was working for Ms. Meng during her successful primary election and he fully supports her candidacy.