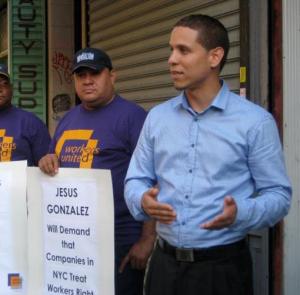 Forget 2012's elections, the Working Families Party is already taking a look at the 2013 City Council campaigns beginning to heat up. Accordingly, the party announced their first endorsements of council candidates this afternoon, backing Jesus Gonzalez and Costa Constantinides. And while neither endorsement is especially shocking, it's certainly nice for the respective candidates to have the labor powerhouse's support for their respective Democratic primaries.
Mr. Gonzalez previously received the Working Families Party's backing when he ran in a high-profile State Assembly special election last year. In that election, he ran only on the WFP line against the Democratic candidate, Councilman Erik Dilan's then-Chief of Staff Rafael Espinal. Mr. Gonzalez ultimately lost that election and subsequently decided to seek the seat belonging to Mr. Dilan, who is term limited, rather than seek a rematch with Mr. Espinal.
The WFP's other endorsement went for Mr. Constantinides, currently running for term-limited Councilman Peter Vallone's seat in Astoria. Although the party and the Queens County Democratic organization have often found themselves on opposing sides in recent years, the endorsement could represent a point of agreement between the two, as Congressman Joe Crowley, the head of the county Democrats, appeared at a fundraiser for Mr. Constantinides months ago.
"We couldn't be more pleased with these two candidates. New Yorkers deserve leaders like Costa and Jesus who will fight for the values working families, not billionaires, lobbyists and corporations,"  Bill Lipton, the WFP's Deputy Director said in a statement. "They'll be great additions to the City Council."
Interestingly, the outgoing incumbents in both council races could very well come down opposing the Working Families picks. Mr. Dilan is all but certain to back another candidate, possibly his wife Janitza, while Mr. Vallone has said positive things about Tony Meloni's campaign for his seat, declaring him "a very formidable candidate."
With a huge number of term-limited council members leaving open seats behind them, control of the Council's powerful speakership hangs in the balance, creating a possible opportunity for the WFP to secure the position for a labor ally if they can win enough of these races. Which is likely why they're weighing in so early.