Famed editor Judith Regan decamped for Los Angeles years ago, but enjoyed keeping one foot in the city where her meteoric rise to fame happened. So she bought a sprawling 3,200-square-foot loft in Chinatown (or Soho, depending on whom you ask) back in 2005. But as she told a Daily Beast reporter in 2010, her affection faded after the apartment flooded. Twice. The water ruined almost all of her art and furniture: "My apartment is like all the men in my life—really good-looking and assholes."
Well, Ms. Regan and her apartment have finally broken up. The editor, radio show host, producer and woman-about-town sold the pied-à-terre at 129 Lafayette Street for $3.9 million, according to city records. We suppose the water damage was finally taken care of? Or maybe buyers 129 Hacienda LLC used it to get a discount of nearly $1 million on the apartment, which was most recently listed at $4.75 million with Warburg brokers Jacqueline Kurtz and James Foreman. Fortunately, if the apartment floods again the new owners, who list their address as Millbrook, N.Y., will have another place to stay.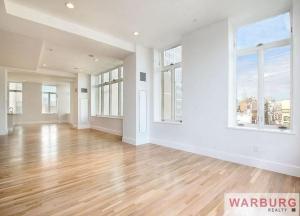 And at least the water damage provided a good excuse for renovating the place—there's some "newly refinished white-on-white decor," according to the listing. If Ms. Regan is as good at picking building finishes as she was at picking best sellers, the place is probably stunning.
No regrets from Ms. Regan, we suppose, who was trying to rent the place even before she sold it, asking a steep $18,000 a month for the three-bedroom, 2.5-bath pad. Even if it does have 12-foot ceilings and "a true cook's kitchen [with] double Thermador ovens and a Viking 6 burner stove," that sounds kind of steep, especially considering that Ms. Regan paid $2.7 million for the apartment in 2005. After her many wild successes, she probably saw no harm in trying for another, but not everything can be another Regan Books.
kvelsey@observer.com