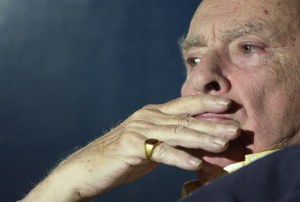 While the late playwright, novelist and essayist is celebrated at the Gerald Schoenfeld Theatre, where a revival of Gore Vidal's The Best Man is currently running, friends, family and fans will have a chance to say goodbye to Mr. Vidal one last time on August 23rd, when the theater will host a public celebration of the accomplished writer.

Beginning at 1 in the afternoon (the perfect time for partying, apparently, for colleagues of the 86-year-old), the Schoenfeld will host a day of presentations and scenes from Mr. Vidal's large body of work. No news yet on expected actors for the show … after all, Mr. Vidal—who died on July 31st—was the best performer of his own work.
Below, a scene from Gore Vidal's The Best Man, currently playing on Broadway with James Earl Jones.