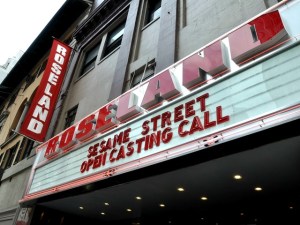 "The bar's set really high–everyone on the street should feel like they're part of our 'hood," said Carol-Lynn Parente, executive producer of Sesame Street, outside the Roseland Ballroom on Monday. Ms. Parente was attending the venerable series's first open casting call in 43 years of production, as the Sesame Workshop sought to add a Spanish-speaking neighbor–gender not specified–to the street. (While the target audience is too young to learn Spanish, Ms. Parente said, the new star would help with outreach to Latino communities.)
The last cast member to be added was "Leela" in the 2008 season. Leela, a laundromat owner on the titular Street, is played by Nitya Vidyasagar, an Indian-American. "Sesame Street has always reflected the diverse population within the community," said Ms. Parente
It's vanishingly rare for a cast member to be added to Sesame Street, as witnessed by Sonia Manzano, who has played Maria since 1971, walking the line of potential auditioners to say hello. Once on the show, cast members tend to stay, though that didn't necessarily seem to be the endgame of auditioner Rebecca Diaz, who said, "It'd be a dream come true! I'd be set! You work with the monsters, the kids, and you get that exposure!"
Auditioners had found out about the call from sources including Univision, the Spanish-language network, and Playbill. Mauricio Marces, a young man with bleached tips and a big smile who'd come in the day before on a bus from Richmond, Va., planned to sing "La Bamba" and "Uptown Girl" to indicate his Spanish and English capabilities. That was if he got to the final round of auditions–the songs happened upstairs at Roseland, after an initial personality interview and the reading of provided sides. Had Mr. Marces watched Sesame Street as a child?
"I was a Barney kid."
Inside Roseland, a woman close to the front of the line looked wide-eyed, terrified. "¿Nervioso?," an event staffer asked.
"Un poquito, pero también feliz," she replied.
One of the first people to audition was a young woman in cowboy boots, toting a rolling suitcase, Longchamp purse, pillow, and sleeping bag. "Yo vivo en Philadelphia–pero soy de México," she told the casting agent. Then, in English: "I came here last night–but I got my sleeping bag right here!" She'd slept on the street to ensure she was one of the first let in at 10 a.m. As the preliminary interview came to an end, a photographer came to her and snapped her picture. She turned towards it like a sunflower, smiled broadly, and put her arms, bent at the elbows, over her head–a classic pin-up pose. She was invited on to the next round.
"It's funny," said Ms. Parente, when asked whether Sesame Street was based on the Midtown stretch near Roseland, or on Harlem, or something else. "Everyone I meet thinks it's based on their community."