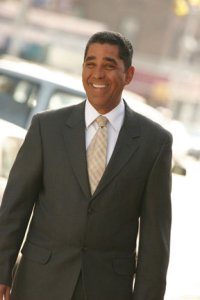 As State Senator Adriano Espaillat seeks reelection, he's been slowly rolling out endorsement after endorsement, making it clear that even if his campaign is opposed by Congressman Charlie Rangel and possibly the county Democratic organization, he's still the establishment favorite. Mr. Espaillat, of course, is being opposed by the Rangel-backed candidacy of Assemblyman Guillermo Linares after narrowly losing a primary challenge himself against Mr. Rangel earlier this summer.
The most recent endorsement was yesterday's announcement of Public Advocate Bill de Blasio' support, and before that, Congressman Jerry Nadler's at the end of last week. Mr. de Blasio's move  isn't that surprising as he was the lone major 2013 mayoral contender who didn't endorse Mr. Rangel during his reelection bid, but Mr. Nadler solidly backed his House colleague in that contest.
"I am proud to endorse Senator Adriano Espaillat for re-election because on the most important issues facing New York, Adriano hasn't simply voted the right way; he has led the way," Mr. de Blasio said in Sunday's statement. "Senator Espaillat's leadership helped extend and strengthen rent regulations, which kept millions of tenants from being priced out of their homes; he has taken a strong stance against cutting education and healthcare funding; and his legislation to raise the minimum wage will uplift poor and working families and get our economy moving again."
But it is Mr. Nadler's endorsement that might ring even stronger, as he represents the Upper West Side and Midtown areas that were strangely gerrymandered into Mr. Espaillat's Washington Heights-based district. In addition to that, Mr. Espaillat has also announced the support of SEIU 32BJ, Manhattan Borough President Scott Stringer, the Working Families Party, as well as other organizations and individuals that backed Mr. Rangel during the congressional battle.
For his part, Mr. Linares has the support of Mayor Michael Bloomberg and the Harlem machine that backed Mr. Rangel, but overall has been waging a relatively quieter campaign as voters prepare to head to the polls in only one month.