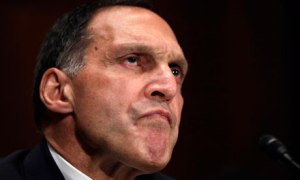 A little over a month ago, The Wall Street Journal identified the Curse of Dick Fuld, after the bank bosses who picked assets off the carcass of Lehman Brothers resigned from their posts in unceremonious fashion.
First went Bob Diamond, who snapped up Lehman's U.S. securities business for Barclays, and who stepped down at the beginning of July after his bank agreed to pay $450 million to settle an investigation into its efforts to manipulate interbank lending rates.
Next fell Nomura chief executive Kenichi Watanabe and chief operating officer Takumi Shibata—who led Nomura's deal for Lehman's European and Asian units—amid an insider trading scandal that roiled the Japanese firm.
This week, it seemed, Barclays and Nomura appeared to pare back their respective global ambitions in tandem. Barclays was first again, naming retail banking chief Antony Jenkins to replace Mr. Diamond as chief executive; Mr. Jenkins told Bloomberg that he was"very confident" about the investment bank, and has previously spoken in favor of the universal banking model. Nontheless, Mr. Jenkins becomes the only CEO of a global, universal bank without an investment banking background, raising speculation that Barclays would back away from Mr. Diamond's quest to build a premier investment bank—a quest defined in part by the Lehman acquisition.
Nomura followed suit today, announcing $1 billion in cost cuts in its wholesale unit in a move that marked a retreat from the play for increased global importance hinged on Mr. Fuld's sloppy seconds. Like Mr. Jenkins, new Nomura CEO Koji Nagai has a background that would suggest a more humble strategy: According to The Times, Mr. Nagai "spent most of his career focused on Nomura's domestic operations"; last month, Mr. Nagai said he plans to reduce the firm's footprint "to an appropriate size."
(Carolyn Kaster/AP)