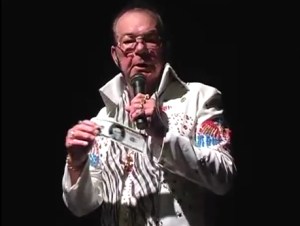 This new web video for Arkansas congressional candidate Bobby Tullis may just be the most incredible campaign ad we've seen so far this year. Mr. Tullis' commercial features an aged Elvis impersonator in a jeweled jumpsuit crooning a "Bobby Tullis For Congress" song.
"Ladies and gentlemen with all the fussing and feuding going on in Washington let's elect someone grounded in the principle of economic freedom and personal liberty," the Elvis impersonator says before breaking into song.
Mr. Tullis' Elvis impersonator also makes a rather unusual campaign promise on the candidates' behalf.
"Hey, Bobby Tullis will try to get my picture on the hundred dollar bill," he says displaying fake currency with a picture of "The King."
Mr. Tullis is running in Arkansas' 4th District on the Libertarian Party line. He previously served in the Arkansas House of Representatives for 14 years and mounted unsuccessful campaigns for state auditor as a Democrat and state treasurer on the Green Party Line in 2010. As of this writing, he has not responded to a request for comment on this story.
Enjoy the unique appeal of Mr. Tullis' web video below.
[youtube http://www.youtube.com/watch?v=rA1xw76N6B0]