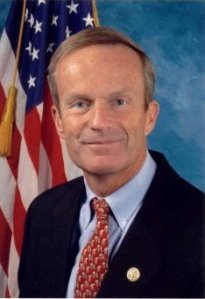 Missouri Congressman and Republican Senate candidate Todd Akin appeared on Mike Huckabee's radio show this afternoon, his first media appearance since a TV interview where he said women cannot get pregnant from "legitimate rape." Mr. Akin, whose voice seemed to waver at times, admitted he made "a couple of serious mistakes" with his comments, but he vowed to stay in his Senate race.
"I've really made a couple of serious mistakes here that were wrong and I need to apologize for those….Rape is never legitimate, it's an evil act," Mr. Akin said. "What I said was ill-conceived, and it was wrong and, for that, I apologize….I've even known some women who have been raped and I know that is a terrible, terrible thing….I also know that people do become pregnant from rape. I didn't mean to imply that that wasn't the case."
With a massive firestorm resulting from Mr. Akin's remarks, many have suggested he should end his campaign against incumbent Democratic Senator Claire McCaskill. However, despite acknowledging he made a "very serious error," Mr. Akin said he still believes the people of Missouri need him to put "some sanity back" in Congress.
"Well, I don't know that I'm the only person in public office who's suffered from foot-in-mouth disease here. And this was a very, very serious error, on the other hand, there are so many good people in Missouri who nominated me and they understood my heart," Mr. Akin said explaining that it is his goal to improve America's "terrible economic condition. "I feel just as strong as ever that my background and ability will be a big asset in replacing Claire McCaskill and putting some sanity back in what's going on in our government."
Mr. Akin, who was ahead in the polls prior to the "legitimate rape" flap, told Mr. Huckabee "there's a lot of work that has to be done" in the Senate.
"The good people of Missouri nominated me and I'm not a quitter," he said. "By the grace of God, we're going to win this race. To quote the great John Paul Jones, 'I've not yet begun to fight.'"
Mr. Akin also said he thinks the "people from Missouri that elected me know that I'm not perfect." Though multiple prominent Republicans have called for him to drop out of the Senate race, Mr. Akin said he hasn't personally heard from any party leaders asking him to give up.
"When you make a mistake, what you need to do is tell people you're sorry," said Mr. Akin. "Just because somebody made a mistake doesn't make them useless."