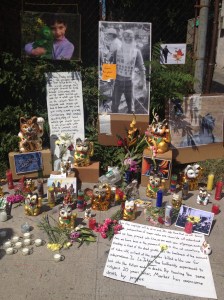 Visitors arriving at Greenpoint cinematheque Light Industry yesterday were greeted outside by a shrine to the late French director Chris Marker consisting of candles, flowers, words and images from his films, a VHS cassette of Hitchcock's Vertigo and waving plastic cats of the sort seen at the Japanese temple in Mr. Marker's Sans Soleil (1983). The subject of Sunday's day-long retrospective, Mr. Marker, who died on his 91st birthday this July, was clearly for this anonymous shrine-building fan what he was for Light Industry co-founder Thomas Beard: a "model of poetic insight and moral intelligence and restless, searching political imagination."
He was also an artist who, as critic Amy Taubin noted in her introduction for Sans Soleil, "dealt most straightforwardly with mortality." She explained: "We talk about him in terms of time and memory, but when we talk about time and memory what we're really talking about is mortality." Sans Soleil combines footage of Marker's travels—to Guinea-Bissau, Japan, Iceland and San Francisco—with a female voiceover recounting them. One passage describes Kim Novak's spiral hair in Vertigo: "This vertigo of space in reality stands for the vertigo of time." For Mr. Marker, time was always interchangeable with space—both the Euclidean kind and the NASA kind. All the Memory of the World (1956), Mr. Marker's collaboration with Alain Resnais and the nonexistent "Magic Marker," explores the French National Library from the viewpoint of a (similarly made-up) guidebook to Mars. If Mr. Marker's films, as J. Hoberman recently wrote, "treat memory as the stuff of science fiction," Sunday's retrospective was the perfect way to remember a man who has gone to another world.
It certainly didn't lack an audience. The lines out the door (to say nothing of the artists' similar names or the marathon aspect of the screening) brought to mind the recent New York exhibition of Christian Marclay's "The Clock." Josh Frank, who came from Williamsburg to watch the first three films, hadn't seen any of Mr. Marker's films but wanted "to take this opportunity to surround myself with as much of his work as possible." Ned Myerberg, another attendee, had seen some of Mr. Marker's films in college, but came to revisit La jetée (1962), the famous short remade by Terry Gilliam in 1995 as Twelve Monkeys. Others were slightly more fanatical. Inside, one enthusiastic visitor was caught trying to steal a book from the exhibit of "Markeriana." Outside, Yale film studies chair John MacKay flaunted the Photoshop collage Mr. Marker had sent him before he died.
For an artist who avoided being photographed and interviewed, Mr. Marker emerged as a man of generosity and humor. Ms. Taubin, who had screened Sans Soleil at the Kitchen in 1984, this time chose to preface it with Mr. Marker's three-minute short Cat Listening to Music, which she said was her favorite of his films. As she explained: "I think his relationship to creatures of the world, most of whom have lifespans shorter than ours, had to do with knowing from the first time he encountered them that they'd probably be dead before he was."
http://www.youtube.com/watch?v=KalkgX5Igwo