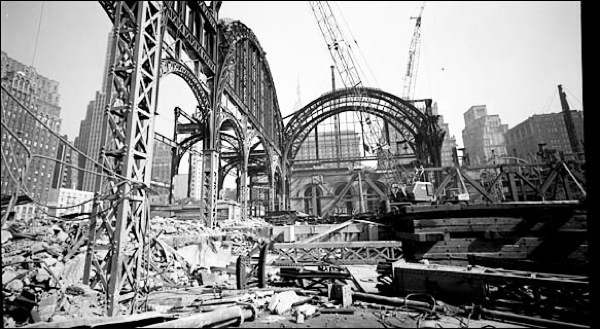 By now it is received wisdom that the city's preservation movement got its start the day Penn Station was torn down, and it has been galvanized ever since "to put a stop to the wanton destruction of our greatest buildings" by "would-be vandals" of the real estate trade, as a protest ad published 50 years ago tomorrow once loudly declared in The Times.
Both sides are still at it, but The Times' Building Blocks columnist David Dunlap provides a tantalizing window on how it all began, including a glimpse at the above ad an a protest that followed on Seventh Avenue, a doomed fight that shocked generations into action.
On that 86-degree summer evening 50 years ago, commuters were greeted by the sight of more than 100 buttoned-down and white-gloved protesters marching around the colossal colonnade at the station's entrance.

"Save Penn Station," their signs said, in nicely formed letters. (Architects. Of course.) "Don't Sell Our City Short." "Save Our Heritage." "Action Not Apathy."

Philip Johnson was impeccably present, in the company of the peerless Elizabeth Bliss Parkinson, a trustee of the Museum of Modern Art, who would soon be its president. There was Aline B. Saarinen, the widow of Eero Saarinen, who had been until 1959 an associate art critic at The New York Times. Agbany counted Eleanor Roosevelt, Stewart Alsop, Jane Jacobs and Norman Mailer among its supporters, along with many of the most respected names in architecture and architectural criticism.

[…]

[Architect Peter] Samton, who was 27, recalled being deputized to get Mr. Johnson down to Penn Station that day. "He said, 'I have a meeting with Mrs. Parkinson; I can't come.' We said, 'Well, bring her along and you can have your meeting while you parade.'"

"The fact that he came meant that we got publicity," Mr. Samton said the other day, after spreading out Agbany memorabilia in the comfortably modernist living and working space he created on the parlor floor of an Upper West Side brownstone.
Yet the most remarkable and unfortunate fact may be the group's inability to stop the project. On the one hand, how could they? This was a bunch of architects, planners and concerned citizens taking on not only City Hall and Robert Moses but an emerging Big Real Estate and Progress Itself. That preservationists have been able to achieve so much since, to the consternation of many, is an impressive feat.
Yet one need look at the inability of Sarah Jessica Parker to save either St. Vincent's Hospital or her husband Matthew Broderick's opposition to NYU to see that these victories remain few and far between.
Greatest of all may be the fact that we continue to fight the good fight at all.