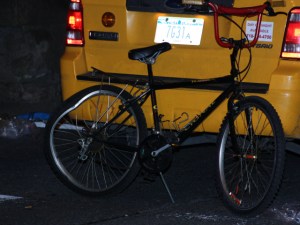 As if we needed another reminder about the need for the NYPD to investigate deadly vehicular accidents in New York City, Streetsblog recounts the tale of an accident earlier this week in East Harlem where a cyclist died. Not only was there no investigation, the NYPD's own press shop was handing out conflicting reports to various media outlets.
Accounts differ as to how the crash unfolded. DNAinfo reported that, according to NYPD, the cyclist "was heading east with traffic on 108th Street," and the cab driver "was traveling on 108th and had the green light … when the cyclist entered the intersection and was struck by the cab."

Information provided by NYPD to both Streetsblog and Gothamist, however, indicates that the cyclist was traveling westbound on E. 108th (which is one-way eastbound) when he was hit by the cabbie, who was southbound on Park. The spokesperson we talked to described the crash as a "t-bone situation." The cyclist's age was reported by Gothamist and DNAinfo as 19, while NYPD told Streetsblog he was 18.
The victim of the accident was 19, and whether or not he was responsible for what happened, it will come as no comfort to the family that they will never know because the police department is not about to put their resources behind finding out.
And it seems unlikely they will any time soon. The mayor has been trimming the department more and more over recent years, and while he and Commissioner Ray Kelly deserve—and loudly proclaim—credit for keeping deaths both vehicular and otherwise down, the fact remains there is not enough money to go around.
If the decision is between more beat cops to keep 3- and 4-year-olds from getting hit with stray bullets and figuring out why someone died at an intersection, which course of action is the department really going to take?
Maybe if the media stopped covering these deaths as though the victims were reckless and at fault, public sentiment might turn in their favor, and thus the police would follow suit. But until that begins to happen, the victims, and their families, appear doomed to their anonymous fate.