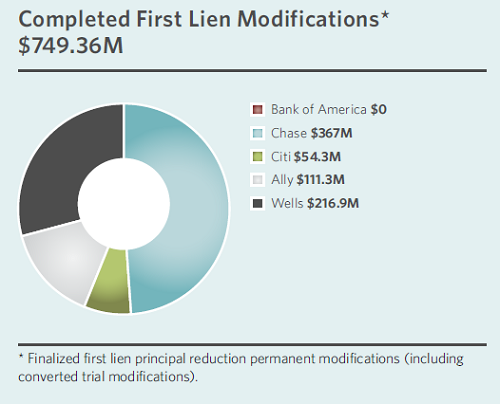 Back in February, the five biggest U.S. mortgage servicers reached a $25 billion settlement with states attorneys general investigation over foreclosure practices.
The terms of the settlement were fairly complex: The servicers would pay about $5 billion in direct payments to states and borrowers, and provide about $20 billion in so-called consumer relief. So much would go to principal reductions, so much so much for refinancing underwater loans, etc.
The independent monitor overseeing the settlement released a progress report today, and the news was maybe a little bit embarrassing for a certain North Carolina-based bank. As of June 30, the lender had not processed a single first-lien loan modification. (Said bank had processed $4.79 billion in shorts sales under the settlement.)
BofA  has an explanation of course, and we suppose it's reasonable. According to Bloomberg:
Separately today, Bank of America said it had completed about $3.2 billion more in relief since June 30. The Charlotte, North Carolina-based lender had forgiven about $1.65 billion in home equity lines of credit, completed $1 billion in short sales and $596 million in mortgage modifications from the end of June through Aug. 21.

"You are seeing a faster start on short sales completed under the agreement because that didn't require a new process to be built, compared to first-lien modifications and the refinance program," said Dan Frahm, a Bank of America spokesman. Eventually, most of the Bank of America credits will be loan modifications, he said.
And we suppose it's not a race (although if you were a borrower waiting on a modification, you might be forgiven for expecting a little bit of urgency). Nonetheless, you'd think the lender might have figured out a way to keep from throwing up a zero.