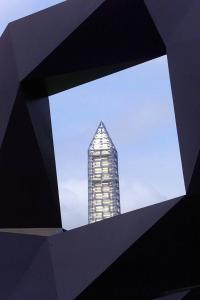 The International Network for the Conservation of Contemporary Art's North American branch has called on people to document Tony Smith sculptures on view outside around the world in order to build a comprehensive database of their whereabouts. Randy Kennedy at The New York Times has the story.
Organizers are asking people to submit photos and information about the works—there are known to be more than 100—to the WikiProject Public Art, which is part of Wikipedia.
Mr. Kennedy quotes Richard McCoy, the founder of Wikiproject Public Art, on the impetus for the initiative:
"We live in a world where every single one of the more than 500 television episodes of 'The Simpsons' has a well-researched Wikipedia article devoted to it, but by comparison there is practically no information about many of the greatest artworks of the 20th century."
Strong point.