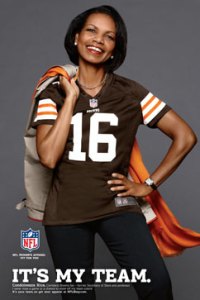 Former Secretary of State and current NFL jersey pitchwoman Condoleezza Rice has made history, having been admitted to the nation's premier golf club, Augusta National in Georgia, which had heretofore only accepted men. Along with Ms. Rice, the Club has admitted Darla Moore, a business executive with a school named after her at the University of South Carolina.
Augusta National was the subject of controversy back in 2002 when Martha Burk, chair of the National Council of Women's Organizations, criticized the club publicly. Earlier this year, Ms. Burk rallied for the club to accept IBM's CEO, Virginia Rometty. In a possible rebuke to Ms. Burk's recent advocacy, whom former Augusta head Hootie Johnson had previously claimed to be holding the club "at the point of a bayonet," the club noted in a statement that "consideration with regard to any candidate is deliberate, held in strict confidence and always takes place over an extended period of time."
Could Ms. Rice next achieve her long-held dream of becoming NFL Commissioner? Will she model golf gear next? We'll be sure to expect the unexpected.