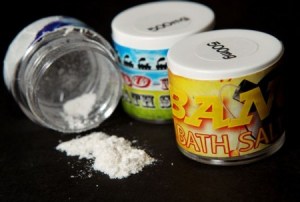 Are you tired about hearing about the new synthetic drug bath salts yet? We're glad to have clarified that the brand of white crystallized substituted cathinones–paging Walter White!–were not actually bath salts.  (For awhile we were plagued with images of getting arrested at Bath & Body Works while on a perfectly innocent shopping sojourn.)
At the same time, it seems like the press is reaching with this one, especially since the drug seemed to be contained within bored teenagers in flyover states and INSANE PEOPLE. (See: Spin's "expose" on the topic, and the aftermath.)
That being said, we can't pretend like the epidemic of bath salts– a designer drug that produces a cocaine/amphetamine/LSD-like high, or as one person who was offered it recently related to The Observer, "makes you feel like an animal"–is just going to disappear off the news cycle because we want it to. (Our magical thinking made Khat trend stories go away, right?)
In fact, the bath salt chickens have finally come home to roost in New York, turning vague rumors of people who pee on art and cannibals in Florida into a NYC reality.

The first tip-off was a press release last week from Manhattan U.S. Attorney Preet Bharara. Working with the New York DEA, the U.S. Attorney was charging four individuals allegedly involved in the manufacturing and distribution of bath salts in Florida.
From the press release:
Manhattan U.S. Attorney Preet Bharara stated: "The charges we are announcing today as part of 'Operation Log Jam' are great examples of law enforcement working together across the nation to wield the law's might against a new, emerging danger to our citizenry, especially our children. The drugs may be synthetic but the danger is very real. As alleged, these defendants marketed their highly toxic synthetic marijuana as aromatic herbs, making it sound completely harmless, when in fact, it is a dangerous drug that can have serious health consequences. It is also an illegal drug, and as these defendants now know, marketing and distributing it can lead to serious consequences of a different sort."
Still, the arrests happened in Florida, not in New York, so we felt safe from whatever "Operation Log Jam" was. But it turns out Attorney Bharara was not kidding about those "different sort" of serious consequences: On July 24th, a 49-year-old man named Daniel Avery destroyed a headshop in Watertown, NY with a baseball bat, claiming that the store sold his son the bath salts that caused the boy to O.D.
"You fucking sold my kid bath salts and I'll kill you," Mr. Avery said in a voice message left at Tebbs Smokeshop. Later the grieving father allegedly broke down the store's glass door and smashed $640 worth of merchandize with a small blue Yankees bat.
Conclusion: Bath salts sound terrifying. Stay away at all costs.