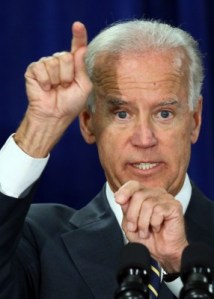 Another day, another controversial soundbite from Vice President Joe Biden. Exactly one week after he caused a stir by suggesting Mitt Romney's economic policies would enable banks to put people "back in chains," Mr. Biden raised eyebrows this afternoon with a speech in Minneapolis likening Mr. Romney and his fellow Republicans to "squealing pigs." Mr. Biden made his analogy when describing a series of achievements he believes the Obama administration has made in spite of "Republican obstructionism" including creating "200,000 brand new good paying jobs," "rescu[ing] the automobile industry," standing up to China and reforming the financial industry.
"Over the objection–though they sound like squealing pigs–over the objections of Romney and all his allies, we passed the toughest Wall Street regulations in history, turning Wall Street back into the allocator of capital it always has been and no longer a casino, and they want to repeal it," Mr. Biden said. 
Mr. Biden's "chains" comments led to rumors President Barack Obama was considering dropping him from the Democratic ticket in favor of Secretary of State Hillary Clinton. The White House has rejected the notion they'd get rid of Biden and they certainly don't seem to be taking him out of the spotlight. Mr. Biden is scheduled to appear in Tampa during the Republican Convention next week as part of a two day campaign swing through Florida.