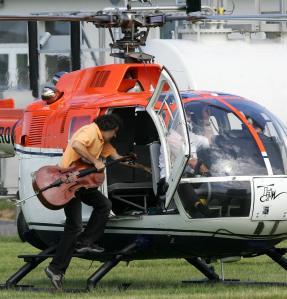 Over in The Guardian, Alexis Petridis visits the Birmingham Opera Company as it prepares to perform Karlheinz Stockhausen's Mittwoch aus Licht (Wednesday from Light), the only one of the composers pieces that has never been performed. (Thank you to @BHoggard for the tip.)
The work was written in the mid-1990s. Why has a performance been so long in coming? Stockhausen's works, his late ones especially, tend to be rather complex affairs. Here's a taste of what's involved with Mittwoch, via Mr. Petridis:
"Everybody else behaves as if flying musicians around a former chemical works is the acme of normality, which I suppose for them it now is. The rehearsal period – 12 hours a day, seven days a week – seems to have immunised them to the sheer strangeness of the work. Walking through another part of the Argyle Works, I spot a man making repairs to a giant camel costume. I mention this to Jean Nicholson, the company's general manager. 'Ah yes,' she nods, 'Lucicamel. It's elected President of the Universe in scene four, and it shits planets and does a dance.'"
There's also a section in which four string players perform together in four different helicopters. (This take place outside of the performance venue. The audience watches via a video feed.) The Helicopter String Quartet is also a standalone work, and has been performed a few times. Here's a handy video of an excerpt—a nice way to end the day.