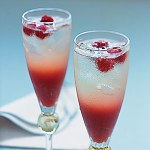 Ever-progressive world policy journal The Economist ran a piece about the tragic state of sobriety in the workplace. Their argument boiled down to: Everyone is boring without booze, which while often true, isn't necessarily something you'd expect to find in The Economist.
Neither is the correction at the bottom of the piece.
As noted by The Atlantic Wire, the correction on The Economist's workplace-boozing piece reads:
Correction: An earlier version of this article claimed that journalists at Bloomberg Businessweek could be disciplined for sipping a spritzer at work. This is not true. Sorry. We must have been drunk on the job.
As it turns out, eternal editorial wunderkind Josh Tyrangiel had taken to Twitter to rebuff the magazine's claim that "Hacks at Bloomberg Businessweek can be disciplined for so much as sipping a spritzer" (you should already know this, but "hacks" is British Mugglespeak for "reporters").
He also gave quote to The Atlantic Wire:
"We love The Economist," Tyrangiel told us over the phone. "The truth of the matter is that every staffer here has a spritzer two or three times a day, and contrary to what The Economist wrote, there's no scolding involved."
Also:
Obviously, Tyrangiel was joking: Bloomberg Businessweek staffers don't really drink on the job.
But Tyrangiel isn't quoted saying that so take it for what you will.
And there is your Absurdist Correction of the Day.
fkamer@observer.com | @weareyourfek